One great joy of Christmas that kids look forward to is going to see Santa Claus at the mall. We can all recall the excitement we had, knowing that we would meet "the real Santa" in person, tell him what we want and then wait expectantly until Christmas morning. Santa would always ask if you had been "naughty or nice".
But for little Landon Johnson, it was different. He feared he would be on the naughty list because he has autism that is often misunderstood and gets him into trouble at school. But his encounter with Santa was not what he expected.
When Landon and his cousins went to see Santa at RiverTown Crossing Mall in Michigan, he asked for the normal things kids ask for. Then he excitedly told Santa that he has autism and that's when Santa leaned in and gave Landon a message of hope.
"Santa asked L if it bothered him, having Autism? L said yes, sometimes. Then Santa told him it shouldn't," Landon's mom Naomi shared on Facebook. "It shouldn't bother him to be who he is. L told Santa that sometimes he gets in trouble at school and it's hard for people to understand that he has autism, and that he's not a naughty boy. Santa told L to not worry and that he has been a very good boy being who he is."
Naomi said the whole incident melted her heart and she's not alone. Naomi's Facebook post about Landon's Santa story has almost 60,000 shares!
She said she tells her son he is special all the time, but hearing it from Santa meant so much.
"Mommy tells him all the time that he's special and I love him the way he was made, but it's always nice to hear it from others. To be told that it's ok to be who he is. We have met a lot of amazing people in our Autism journey, but this one made the top of the list."
"My child is a great advocate for himself. But this day was different. He opened up to this person about who he was and he was accepted," she said. "He wasn't a science experiment, like he gets treated when most people find out he's autistic. He was Landon, sitting with Santa and being told that it was ok to be himself."
"Santa's" daughter said he loves playing Santa at the mall and that when he saw the story on the news, he had to hold back the tears.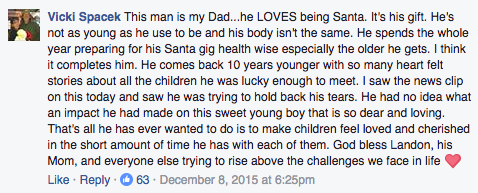 Share this beautiful moment today!
Want to be happier in just 5 minutes a day? Sign up for Morning Smile and join over 455,000+ people who start each day with good news.