It's so easy for others to criticize your material belongings just looking from the outside. It could be your house, car, haircut… maybe even your wedding ring. Rachel Pedersen knows what it's like have that sort of superficial judgement thrust upon her.
On February 4th, 2016, Rachel wrote a letter to those who made the size of her wedding band their concern. She confronted those who said it was "too small" and that it "didn't make her look successful."
But the way she chose to handle it had more substance than any 10 carat diamond ever could: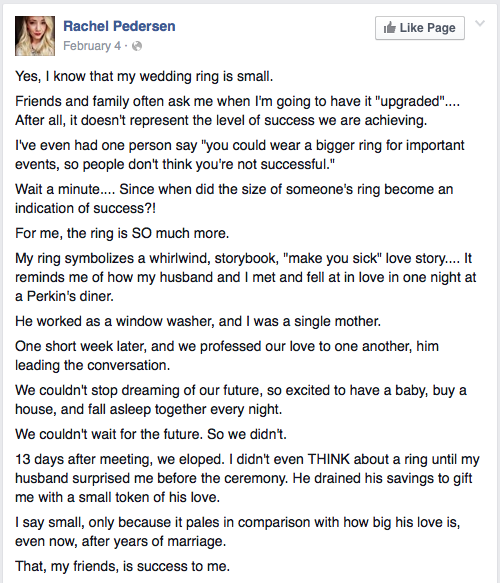 Transcript:
Yes, I know that my wedding ring is small.
Friends and family often ask me when I'm going to have it "upgraded"…. After all, it doesn't represent the level of success we are achieving.
I've even had one person say "you could wear a bigger ring for important events, so people don't think you're not successful."
Wait a minute…. Since when did the size of someone's ring become an indication of success?!
For me, the ring is SO much more.
My ring symbolizes a whirlwind, storybook, "make you sick" love story…. It reminds me of how my husband and I met and fell at in love in one night at a Perkin's diner.
He worked as a window washer, and I was a single mother.
One short week later, and we professed our love to one another, him leading the conversation.
We couldn't stop dreaming of our future, so excited to have a baby, buy a house, and fall asleep together every night.
We couldn't wait for the future. So we didn't.
13 days after meeting, we eloped. I didn't even THINK about a ring until my husband surprised me before the ceremony. He drained his savings to gift me with a small token of his love.
I say small, only because it pales in comparison with how big his love is, even now, after years of marriage.
That, my friends, is success to me.
Thanks for that truth, Rachel!
Share her inspiring letter with the world today!
Want to be happier in just 5 minutes a day? Sign up for Morning Smile and join over 455,000+ people who start each day with good news.