A boy on Imgur recently shared a wonderful story of his late step-dad, Mason. He had left what was one of the most heart-wrenching and wonderful gifts for his wife.
The husband and dad passed away at the age of 51 in February of 2016 due to a ruptured artery. He was a loving man who's passion was taking care of his family and also had great skill as a carpenter.
A few months after his passing, his son – who's username is ButAnywayHeresWonderwall – noticed something underneath a bench Mason had built for his wife when she got into metal engraving.
Read the story below to learn the full extent of love this man left behind:
A small family was devastated when their husband and dad died of a ruptured artery. Mason was a carpenter and sweet man.
Months after, when his step-son began working at his mother's workshop, one of the legs broke on a bench.
"He made this workbench for my mom when she got into metal engraving."
So he turned it over and began repairing using a method his dad taught him. That's when he found a small note written on the bottom of the plank. The note read:
"I love you Becca. Whatever day this is, I hope it's a good one. God truly answered my prayers the day he gave me you. I know that these days are the best I'll ever have, and I'm glad you're in them. I'm not sure if you'll ever see this, but if you do, just know that I love you very much. If there is one thing I want in life, it is to be as good to you as you are to me. If I can do that, I'll be the happiest man alive. – I love you, Beautiful Wife. – Mason"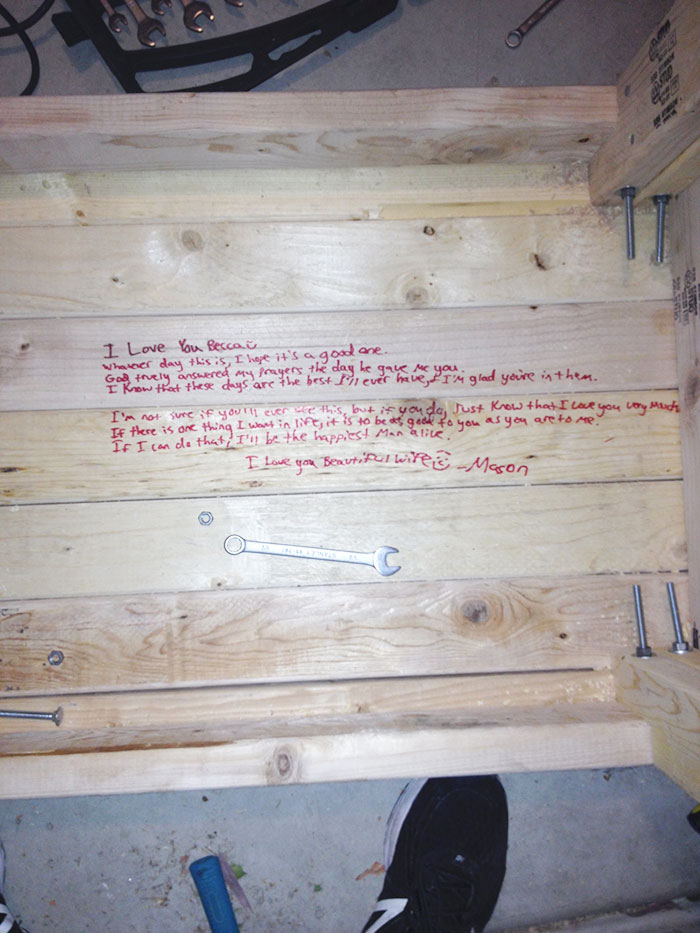 Mason had no idea when or if his wife would see his message. Of course, she became emotional the moment she saw it. And in order to preserve the memory, they took the plank and framed it on the wall.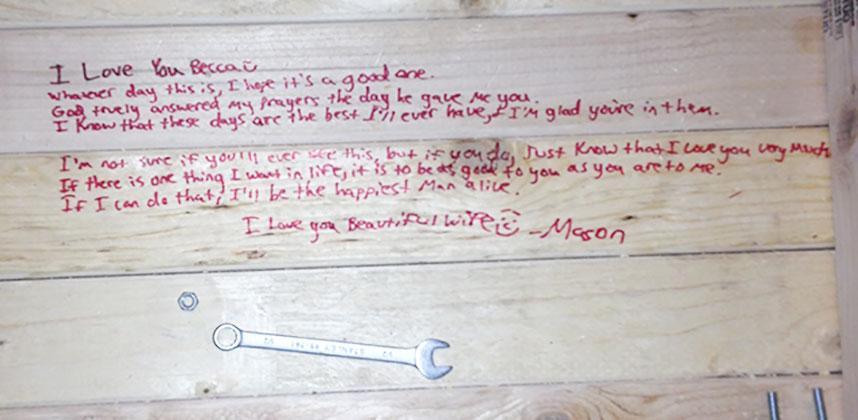 Now she has a lasting memento of her sweet carpenter.
There is love pouring out of marriages all across the world.  Do everything you can to love your spouse well, like Mason did… it's worth it.
Share this beautiful message today!
Want to be happier in just 5 minutes a day? Sign up for Morning Smile and join over 455,000+ people who start each day with good news.