Lisa Sarber Aldrich walked into a market thinking it was just like any other day.  But in actuality, something very special was about to happen.
It occurred during a quick trip in search of a birthday cake.  Lisa was in need of a simple desert with the words "Happy Birthday" written in icing.  A very standard request that usually results in a cookie-cutter item.  But she got something very different.
The employee who made her cake turned out to be autistic.  Instead of responding in a negative way, Lisa was astoundingly patient and kind.
Lisa posted a description of the encounter to Facebook and it has since gone viral, reaching millions around the globe: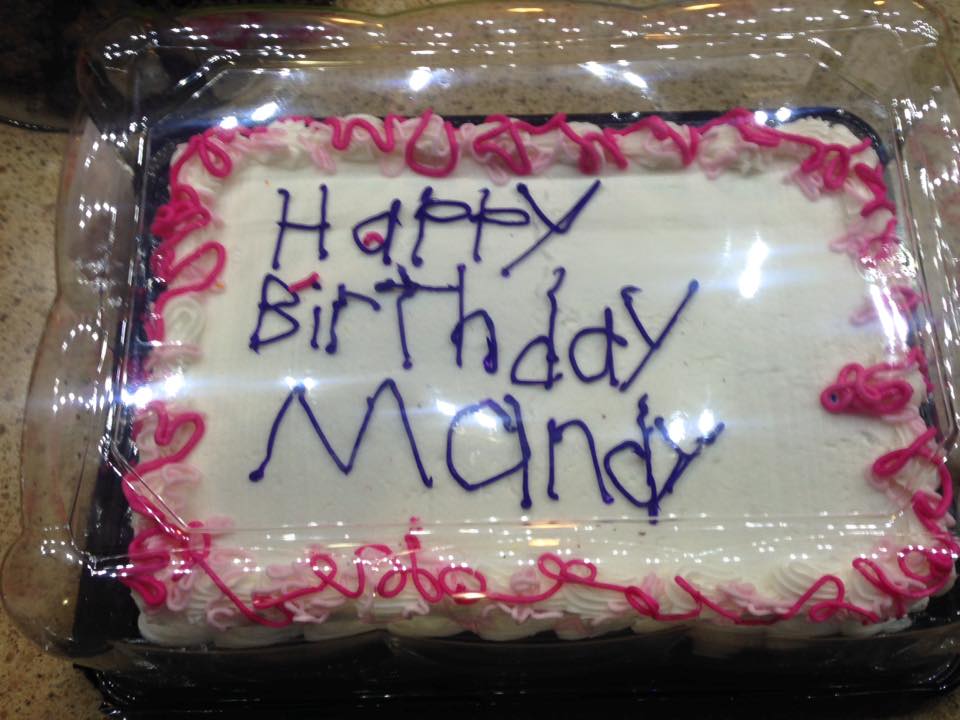 "Picked out a cake at Meijer. Asked bakery-looking-employee if she could write on it for me. She said she would, and after a long time, she came and presented me with this cake. I looked her In the eye and said thank you before I even looked at the cake.
After looking, I nervously laughed and headed to check out- it didn't really matter to me that it looked so bad- I thought people would think it was funny. The cashiers at the self check out didn't think it was so funny though, and called a few more cashiers and a manager over to look, even taking pictures. To my surprise, after they discussed it, one cashier put her arm on my shoulder and said 'the girl who wrote that has Autism.  Thank you for smiling and thanking her- even though she's not supposed to write on cakes, you probably made her day.' So I guess the moral of the story is that kindness is important!"
Here's the Takeaway: Be patient! Lisa has inspired millions with her kind, patient response. She wasn't quick to demand a refund or ridicule the work, but recognized the importance of the situation and reacted in the most significant way she could. We can all do the same!
Want to be happier in just 5 minutes a day? Sign up for Morning Smile and join over 455,000+ people who start each day with good news.