Cody Townsend's descent through the Tordrillo Mountains in south-central Alaska is deemed Line of the Year. As GrindTV said, "Most viewers, whether they ski or not, probably will agree that it requires a high skill level and a touch of craziness to even contemplate negotiating a chute so ominously vertical, dark and narrow, with rock walls only inches away, and with an exit window visible only as a thin crack of light."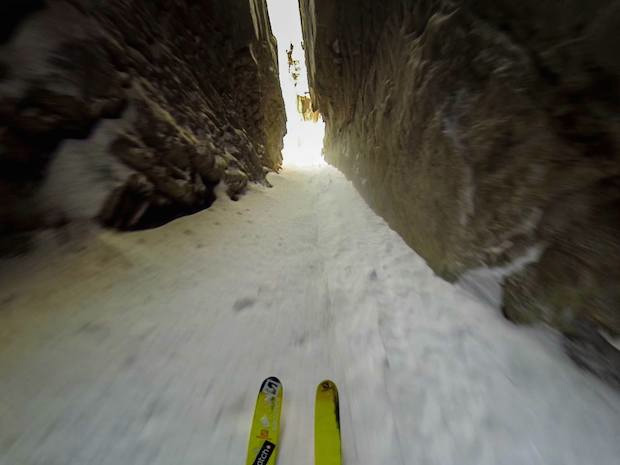 snapshot going through the narrow pass; photo via Facebook
The 31-Year-Old athlete, who lives in Squaw Valley, California, was honored during the annual 2014 Powder Awards in Salt Lake City. During the gala, hosted by Powder Magazine, Townsend claimed three awards, one of which was Best Male Performance, based on his many appearances (including the featured footage) in MSP Films' "Days of My Youth."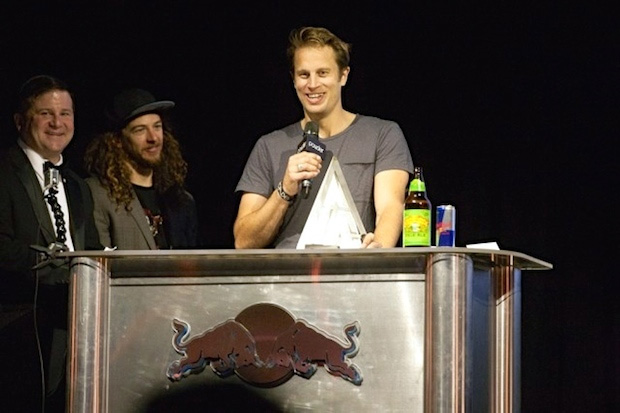 At the podium during the Powder Awards; photo via Powder Magazine
In addition to those outstanding and impressive awards, the skiing protégé landed covers on four different magazines: The September issue of Powder, Skiing, Aka Skidor in Sweden, and Snow magazine the the Czech Republic.
While sitting down with Powder's John Clary Davies, Townsend emphasized the importance of enjoying sports like skiing, first and foremost. "I never skied to win an award,"he said. "I've always just kind of followed what I want to do. So many things that went into it this year, it was because that's what I thought was going to be the most fun.â€
Want to be happier in just 5 minutes a day? Sign up for Morning Smile and join over 455,000+ people who start each day with good news.