Michael Shaft has been working part time at The Ginger Man restaurant in Albany, New York for the past 5 years. On this particular night, a married couple came in to celebrate the husband's 47th birthday. It was clear the man wanted his birthday to be extravagant and memorable, bringing a 47-year-old bottle of Italian wine with him. The dining experience was relatively normal, but right before the couple left the wife told Shaft her husband did something special for him and that it was very real. Shaft was very confused by her words until he saw the tip.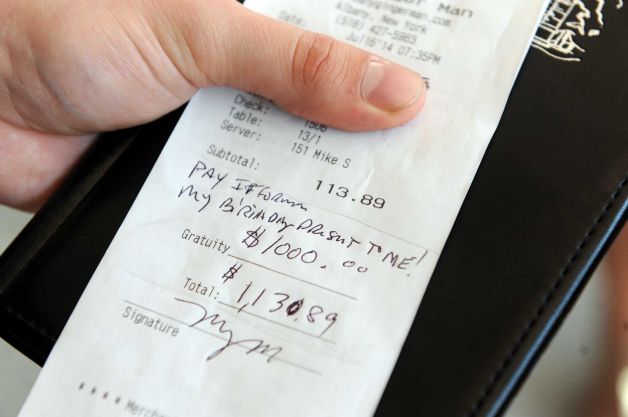 Her husband left Michael a $1000 tip, approximately 878 percent added to the meal total, with a message that said "Pay it forward. My birthday present to me!" What an amazing surprise from a complete stranger!
And Shaft did pay it forward. He used half the tip on a car repair and divided the other half among all of the other Ginger Man employees!
Want to be happier in just 5 minutes a day? Sign up for Morning Smile and join over 455,000+ people who start each day with good news.