Veterinarian Emily Martin tries to give the same level of care and attention to all of her patients, but Taka's case is especially heart wrenching.
When a fire broke out at his owners' duplex last month, the 8-year-old Shiba Inu was trapped in the screened-in porch area and, despite their best efforts to save him, they had to flee without their beloved pet. He was finally able to escape on his own, but by the time a neighbor found him, he'd suffered severe burns on his face, stomach and paws.
Taka was, understandably, in incredible pain when he arrived at Care More Animal Hospital. The burns were significant and had to be treated, but foremost in their minds was treating him for inhalation burns and carbon monoxide poisoning.
Animals in pain often lash out and try to bite anyone who tries to help them, but Taka never once displayed any aggressive behavior and was, in fact, completely submissive, knowing Emily and the other staff members only wanted to help.
"He would only calm down if I sat with him and I'm trying not to cry, but he didn't even know me and he trusted me, so I got pretty attached," she said.
Care More didn't have the resources to treat Taka, so he was transferred to the University of Georgia in Athens, where he received infusions of oxygen to help his breathing. But he was sent back to Care More once his condition stabilized, and in the meantime, community members chipped in thousands of dollars to help offset the costs of his treatments.
Taka's facial burns were so severe that he was left blind, which only made Emily's heart go out to him even more – he'd already been through so much trauma, and now he couldn't even see where he was or what was going on around him. But he didn't need to see to know he was surrounded by love, and that he was in the best hands possible.
In Taka's best interests, his family ultimately surrendered him to Care More. On his first night back, Emily couldn't stand the idea of leaving him alone overnight, knowing he was still frightened and in pain, so she brought him home with her.
"I was up with him all night at my house, so the following day, we were both exhausted,"she said. When they returned to Care More the following day, she heard Taka's bed calling out to her… and curled up beside him, resulting in this heart-tugging photo:
"Taco," as staff members are now calling him, is still recuperating, and how well he'll recover remains to be seen. But they're measuring his progress in small steps, and the fact that he's eating and going to the bathroom on his own are victories in their own rights, rewarded by the belly rubs and cuddles he so fervently craves.
Meanwhile, his fighting spirit has served as an inspiration to everyone, but especially Emily. In an October 29 Facebook post, she wrote:
I won't leave this boy's side. Taka's resiliency to fear and pain is inspiring and he has such a fight for life. He trusts us with no hesitation and is one of the sweetest souls I've met.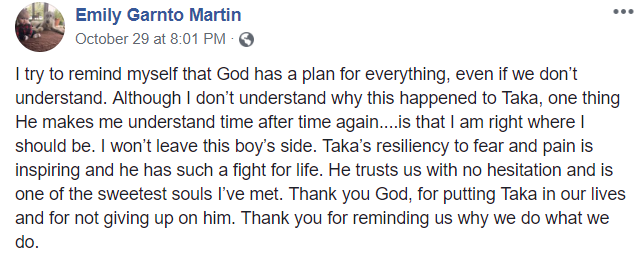 Once he's out of the woods, Emily's considering adopting this sweet Shiba Inu, although she already has five other dogs and a new human addition to the family. But wherever he ends up, she says, this sweet, trusting boy needs to go somewhere where he'll gets lots of individualized care … and, of course, lots and lots of belly rubs and cuddles!
If you'd like to donate to help cover the costs of his continued care, call (706)650-1839 or go to https://caremoreanimalhospital.net.
Emily and the rest of the Care More staff have already proven themselves fully capable through this whole ordeal, and if there's any group of animal lovers who can nurse him back to health, it's them.
Share to thank them for everything they've done in the last two weeks and to wish him luck on his road to recovery.
---
Share your story & inspire the world.
If you have an uplifting story we would love to hear about it! Share it with us here.
Want to be happier in just 5 minutes a day? Sign up for Morning Smile and join over 455,000+ people who start each day with good news.