If you think humanity is broken, you are not alone. However, we can assure you that it is very healthy. When a stranger found a missing pup and returned her, he provided the proof. When the lady lost her beloved family dog, Pippi, she did everything possible to find the pup. That included blanketing the neighborhood with full-color flyers with a great picture of Pippi and information on contacting the owners.
Well, someone found her. Two days after the stranger found the missing pup, he happened to see one of the flyers and knew what he had to do. He called the number, but there was no answer. The man didn't give up, though. He packed Pippi up and drove to the address with her. When he rang the doorbell, there was no answer. Realizing it was a Ring doorbell, he told the homeowner who he was and why he was there. He held up the flyer and Pippi side-by-side to show the homeowner he was returning their lost pup.
There was still no response. He could have left the pup tied up on the empty porch, but he didn't. He sat down on the porch with Pippi and waited with her. They were there for about an hour when an older lady came around the front of the house. She was startled upon seeing the gentleman, but he stood quickly and told her he was there to return her missing pup.
And then the tears started flowing as she realized her precious Pippi was home! The two exchanged pleasantries, with him updating her on Pippi's exploits over the past two days. It was quite obvious that he was smitten with this little pooch. Part 2 of the video saga ended with them sharing a hug.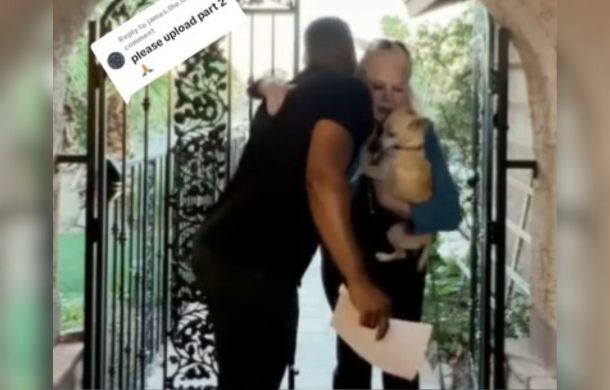 This saga is documented in a series of three short TikTok videos. Video number one is below.
After waiting for an hour, the Ring doorbell recorded the second part, below.
You can find the source of the featured image here.
---
We need your support
We're a very small team competing against giant corporations for just a few, crucial minutes of people's attention each day–a few minutes that can be life-changing. If you believe in the importance of spreading good news into the world, please considering supporting our team today. Thank you.
Support Us
---
Want to be happier in just 5 minutes a day? Sign up for Morning Smile and join over 455,000+ people who start each day with good news.