We all do forgetful things that may result in hilarity. Let's start at the beginning. This mom had one assignment: to create a wedding portfolio from the assembled images after the wedding. Mom went to Shutterfly, where creating beautiful photo books is normally a point-and-click adventure in wholesomeness. However, if you forget one part of the process, it can have unexpected results.
In this case, Mom forgot to remove the caption placeholders that are supplied by Shutterfly. The purpose of the placeholders is to give the creator ideas about how to caption images. Unfortunately, if you don't remember to replace them or delete them, your book may have some unexpected additions.
From the caption under a photo of the groom buttoning his tuxedo to group images with the grandparents, the album continues to become more hilarious. The bride can barely stop laughing enough to talk. And mom? Well, she's an embarrassed lump sitting across the table burying her head in shame. Or is she just laughing too hard? It's difficult to tell.
One thing is certain — the captions make this wedding album even more memorable! I am sure that cousins Kayla and Lucy had a wonderful time during the beach party/park/picnic or whatever went on that day.
They might have been at the park …
Or perhaps they were at the beach?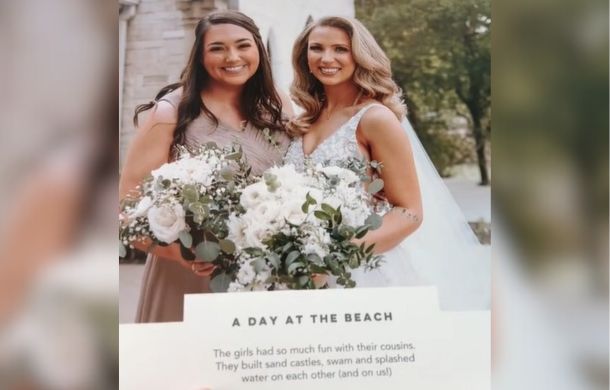 We're pretty certain that the wedding did not occur at the park or the beach. The bride stated she doesn't even have cousins named Kayla and Lucy, but apparently, they had a wonderful time at the wedding. The bride and bridesmaids (identified as "the girls" according to the caption) even found time to set up a lemonade stand!
Watch the whole clip on TikTok to find out why we're laughing so hard!
You can find the source of this story's featured image here.
Want to be happier in just 5 minutes a day? Sign up for Morning Smile and join over 455,000+ people who start each day with good news.