On this bride's special day, there was only one person more excited than the groom to see her walk down the aisle: her 2-year-old son! Heartwarming footage of the wedding ceremony shows the toddler, named Pierson, shouting with joy the moment he catches a glimpse of his mom in her beautiful wedding dress. Although he was probably supposed to stay put next to his dad-to-be, the little boy couldn't help but run down the aisle to give his mom a hug. Of course, the bride didn't seem to mind! She was more than happy to be joined by her son when her brother escorted her down the aisle.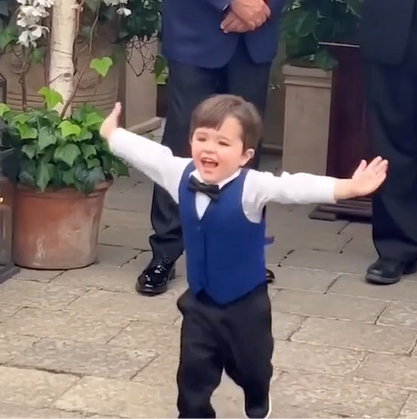 Mom wasn't the only one surprised and delighted by her son's enthusiasm. The rest of the congregation erupted with laughter, and many guests attempted to record the special moment on their phones.
"One of the few times I'm glad people have their phones out at a wedding so she has these videos forever," wrote one commenter on TikTok.
Watch the video below to see this little toddler make his mom's wedding day unforgettable!
You can find the source of this story's featured image here.
Want to be happier in just 5 minutes a day? Sign up for Morning Smile and join over 455,000+ people who start each day with good news.