There are countless videos online, many of which are made with the goal to tear others down or spread negativity. However, there are also plenty of videos that do the exact opposite — and this is one of them. What could be more heartwarming than watching a groom in a wheelchair surprise his bride when he stands at the alter for her?
In the video, we see a bride and groom at the altar. The groom, who is said to be paralyzed, sits in a wheelchair… at least he does at first. After being told they had a surprise for her, the bride was blindfolded.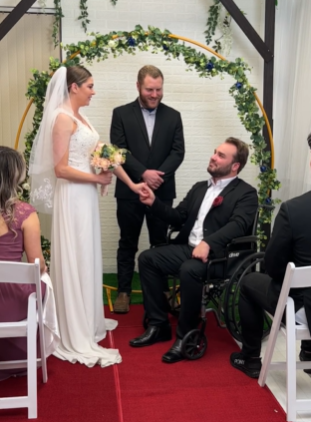 Meanwhile, with the assistance of the bridal party and officiant, he was able to temporarily stand on his feet. When this surprise was revealed to the bride, she instantly began to cry, and the two of them embraced.
However, Adley, the Facebook account who shared the video, states that the events that take place are part of a fictional skit, the affect it has had on people is real. The purpose of the skit is to bring you that warm and fuzzy feeling, and the video does that in bunches. So enjoy it anyway, and remember that there are people out there trying to make your day a little better!
Watch this heartwarming skit of the moment a groom in a wheelchair stands at the altar in the video below:
You can find the source of this story's featured image here!
Want to be happier in just 5 minutes a day? Sign up for Morning Smile and join over 455,000+ people who start each day with good news.