We all know that vets and vet techs have innumerable skills. They can do all manner of animal care tasks that we couldn't dream of, from simple nail trims with a grumpy pug to intricate surgical procedures. However, you'd never guess what one of their most entertaining skills is!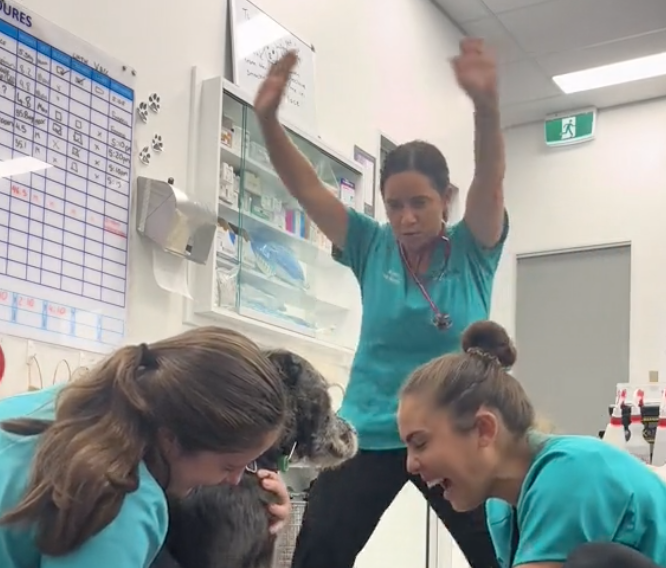 Veterinary medicine requires much more distraction than you might realize, and only a select few can pull off the best distraction techniques. Food is one technique, to be sure, but when pets are under high levels of stress or not feeling very good, it isn't unusual for them to have less of an appetite. That's where dancing comes in!
Most dogs aren't particularly used to their vet staff breaking out into crazy dance moves, and those dance moves are undeniably distracting. Just take a look at one vet's go-to distraction dance:
But vets aren't the only ones who can bust a move in an exam room! Vet techs have just as much, and sometimes more, skill in wacky distractions. In many cases, the vet techs are the people performing distractions while the vet works on the uncomfortable things like placing IVs or giving injections.
So it shouldn't come as a surprise to find that the techs are equally as skilled as the vets at this unique job requirement! Check out this vet tech distraction dance:
While veterinary medicine is incredibly rewarding, it isn't a stretch to say it can be tough work. Handling unhappy and uncomfortable patients, and handling equally unhappy and uncomfortable pet parents, can certainly be a source of stress.
Finding joy in the small things, like having the most snazzy vet distraction dance that makes all your coworkers laugh, is the best way to get through a tough day. So enjoy these silly dances, and let them brighten your day too! Here's one more for the road:
You can find the source of this story's featured image here.
Want to be happier in just 5 minutes a day? Sign up for Morning Smile and join over 455,000+ people who start each day with good news.