This epic Elphaba has taken to delivering some pretty hardcore roasts. Her edgy, snarky hilarity is brightening the days of those visiting the Land of Oz!
The Wicked Witch's antics have no boundary. She sassily steps by some men and kids who are in her way, commenting, "Move, small fry," as she passes.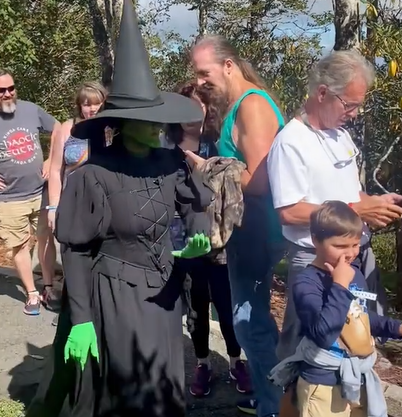 Glinda the Good Witch was nearby, and Elphaba was not amused by the bubbles in her path.
"This should be considered pollution!" she shouted as she moved through the bubbles. Then, hilariously, she turned around and commented, "I'm all for going green!"
Some fans of this incredible witch took to the comments to share their support.
"Wicked witch's voice is perfect!!" said one fan.
"That….that is my dream job," commented another viewer who was green with envy!
In this clip, you can see Elphaba attempting to capture a little fan of the Wicked Witch.
"We could go for a few laps in the cauldron," Elphaba suggested innocently.
This wicked witch is incredible at what she does. Keep your eyes out for moments of laughter today!
---
Support Our Small Team
As a reader-funded media company, our team needs your support to continue spreading hope & positivity in a time we need it most. If you believe in this mission, please consider showing your support today. Thank you.
Support Us
---
The featured image for this post is from TikTok.
Want to be happier in just 5 minutes a day? Sign up for Morning Smile and join over 455,000+ people who start each day with good news.