Break-ups are one of the toughest things to endure. They take us to our lowest lows and bring out our biggest insecurities. But sometimes, a moment of kindness can help pull us out of the pain.
After a phone call with her therapist in the park, a stranger came up to this woman and gave her a note. It was beyond kind.
"You seem like a wonderful person and he doesn't deserve you," read the stranger's note.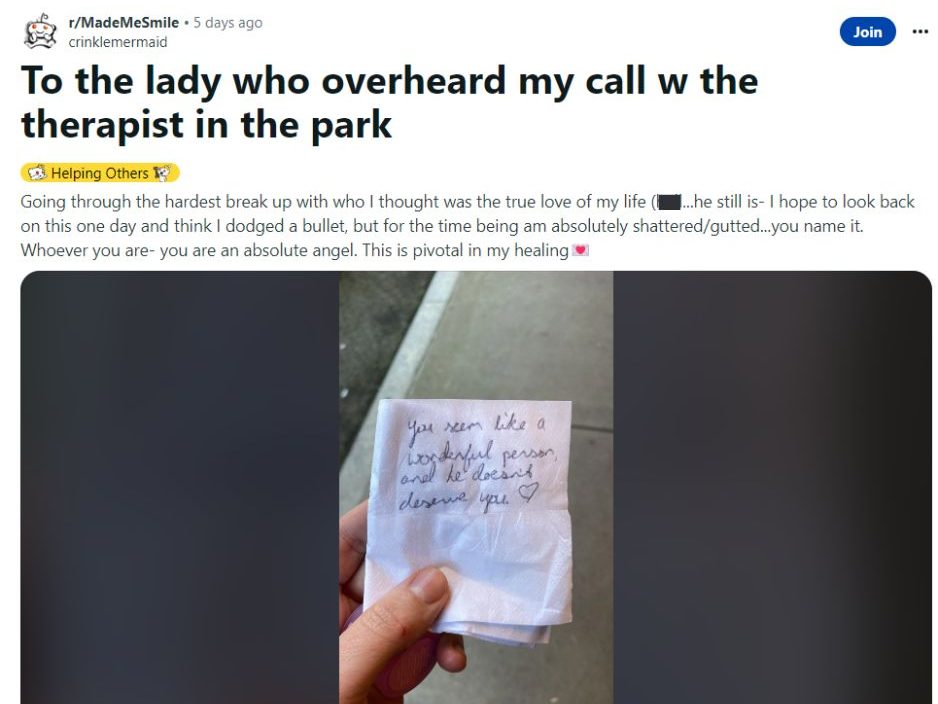 The woman was overcome with emotion from the kindness of the stranger. She took to Reddit to share her gratitude, and an outpouring of love burst from the comments.
"I'm old and I can assure you that you will get over him. It just takes time. I'm so sorry for your broken heart. Please be good to yourself," said another kind stranger, this time over Reddit.
"A girl wrote me a sweet note in a similar situation where she overheard me telling another bartender about my problem. I took it as a sign, you should too!" commented another reader.
It's so easy to believe we're all alone when we are in a dark spot. Whether it's the kindness of a stranger, or the encouraging words of a friend, connection with other people is key to coming out of tough times. And hey, if you have a little extra love to share today, spread your light on someone else. You never know who needs to hear a kind word.
The featured image for this post is from Reddit.
Want to be happier in just 5 minutes a day? Sign up for Morning Smile and join over 455,000+ people who start each day with good news.