Beckett was born a full-term, healthy boy five years ago. Six weeks after his birth, a tragic event occurred. He was hurt by the hands of a person who should have protected him. He was a victim of Shaken Baby Syndrome (SBS). A parent figure shook Beckett violently, then put him to bed and left him there for possibly as long as 48 hours. The result was life-threatening and left Beckett with a long list of continuing health problems.
After two weeks in the Pediatric Intensive Care Unit (PICU), Beckett was placed with a foster family. His biological parents were criminally charged, and he became a ward of the state. A formal adoption is now in place, keeping him permanently with his then-foster parents. Beckett will need lifelong care due to the injuries he sustained from SBS. Routine childhood illnesses can have a significant effect on him, which is how he ended up in the hospital recently with rhino-virus.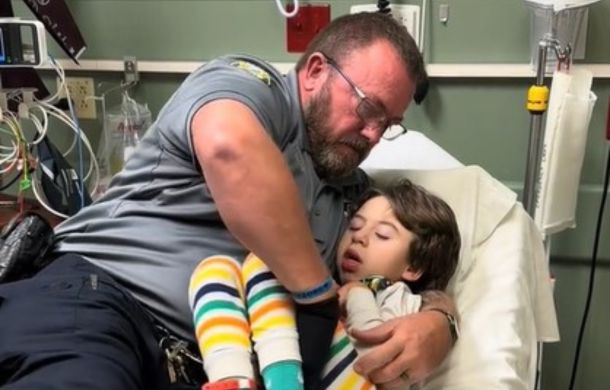 Beckett is now five years old. He has epilepsy, cerebral palsy, mental and physical developmental delays, hearing loss, and blindness. He cannot eat or drink and relies on a G-tube for nourishment. He has daily medication needs and must wear diapers. His adoptive parents are intent on bringing awareness about SBS to the surface. Everything that Beckett suffers with daily was preventable. Beckett might be a normal, active kindergarten student if the angry adult had just set him down and walked away all those years ago.
Beckett got to go home from the hospital after 24 hours of observation and a shot. Hopefully, the shot will tame the rhino-virus symptoms enough to allow him to remain at home. Although necessary, these trips are not fun for Beckett or his parents. An angry adult took away his ability to advocate for himself. While parts of Beckett's story are sad, he is now in the constant embrace of loving parents. They will continue to provide him with the best life possible.
Christy Rector and her husband advocate daily for Beckett and other Shaken Baby Syndrome survivors. They provide Beckett with the love and care that he needs to live with his disabilities. Their vigilance and unconditional love is the saving grace in this story. Unfortunately for many, SBS is an ongoing problem. In a blog post on "The Mom & Caregiver," Christy urges, "Please stop, put an infant down in a safe area and walk away!"
It is such a simple request that can save so many children.
You can find the source of this story's featured image here.
Want to be happier in just 5 minutes a day? Sign up for Morning Smile and join over 455,000+ people who start each day with good news.