A casual conversation through text takes a turn into life's unexpected territory for Jenn and Jeremy. Jenn, who had been under the weather recently, reveals her pregnancy to her husband, Jeremy, via a simple text. Jeremy's calm and collected response is the stuff of modern fairytales.
The initial exchange is light-hearted. Jeremy's humor shines through as he asks about the lucky expectant, only to find out he's the father-to-be. The news doesn't seem to rattle him; instead, he's already steps ahead, contemplating their future with unwavering optimism.
For Jenn, another baby wasn't in the cards, financially or emotionally. Yet, Jeremy stands as a pillar of strength. He reassures her with the quiet confidence of someone who knows the strength and unity of their love.
Their exchange travels through a spectrum of emotions, acknowledging past sorrows with the loss of their first pregnancy and recognizing the present joy. Jeremy's faith is the undertone of his outlook; he sees their unexpected news not as a challenge, but as a divine endorsement of them as parents.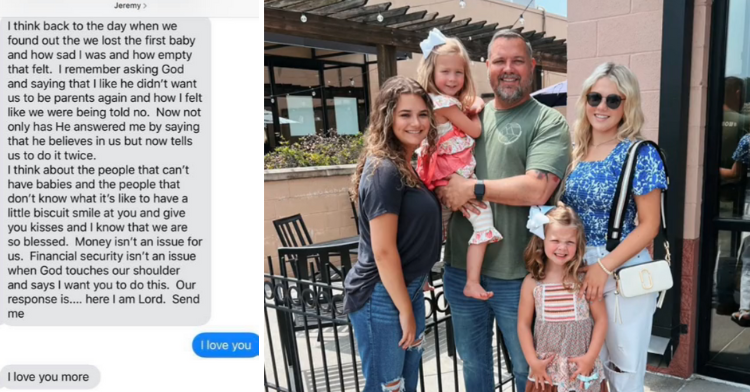 The discourse culminates in a tender exchange of 'I love yous,' and playful banter about future baby names. Jeremy Jr. makes the list if it's a boy. It's a snapshot of two people, perfectly in sync, facing life's surprises together — with love as their compass.
As we share in the joy of Jenn and Jeremy's story, we're reminded that sometimes, the best moments in life are those that are unplanned. Have you ever experienced a moment that felt divinely orchestrated? Share this story and let us celebrate the serendipitous joys of life together.
You can find the source of this story's featured image here.
Want to be happier in just 5 minutes a day? Sign up for Morning Smile and join over 455,000+ people who start each day with good news.