When you have children and pets residing in the same house, it is important to introduce new additions carefully. Whether the addition is a child or a new pet, slow introductions keep everyone calm and let you to monitor the interaction. Even our pets are intuitive enough to pick up on this process. In an amazing video, this family's cat mom shows incredible intelligence in this area as she introduces her kitten to the newborn baby.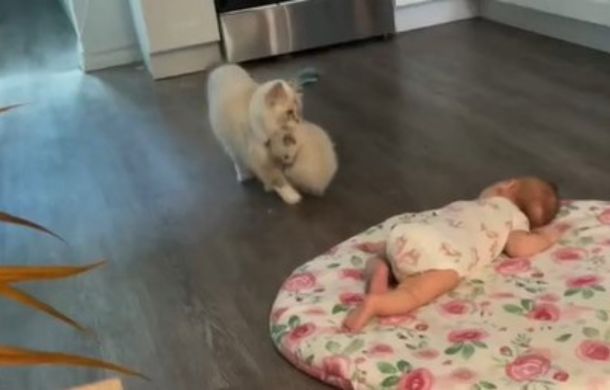 The family had their newborn, Blossom, relaxing on a padded mat on the kitchen floor during tummy time. The cat mom entered the room carrying her newborn baby kitten. While intent on getting her tiny kitten close to the newborn, she was very careful not to get too close.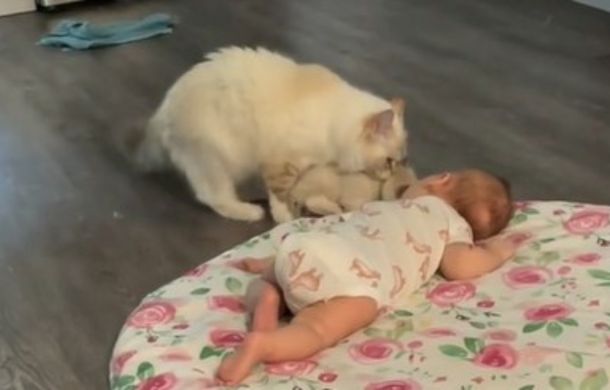 The interaction was precious. The kitten tried to escape, but cat mom diligently kept her baby near. The cat was valiantly attempting to introduce the two "siblings." The short interaction is adorable. To watch an animal be so gentle but persistent is incredible!
If you are interested in watching as they grow up together, the family has a TikTok channel where they share the activities of Blossom and a houseful of Rag Doll cats. Blossom is several years old now and has had many cute and adorable interactions with the cats. Watch for yourself and share this wholesome moment with your friends!
You can find the source of this story's featured image here.
Want to be happier in just 5 minutes a day? Sign up for Morning Smile and join over 455,000+ people who start each day with good news.