In a heartwarming scene captured on video, a 90-year-old grandfather stole the show at his granddaughter's wedding. As the bride made her way down the aisle, her grandfather, seated in a wheelchair, delivered a beautiful rendition of Elvis Presley's "Can't Help Falling in Love." As this grandfather sings at her wedding, his deep, resonant voice perfectly matched the iconic song, filling the venue with emotion and love.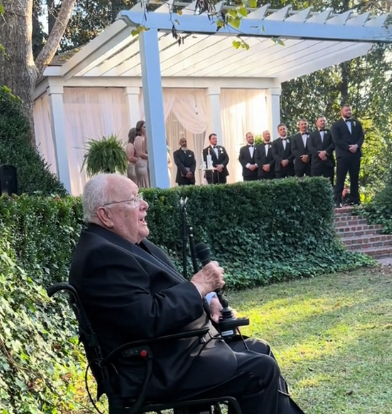 This touching moment reminds us that age is no barrier to sharing joy and making memories. The bride's choice to include her grandfather in such a special way added a unique and memorable element to her wedding and showcased the enduring love between family members.
Witness this heartwarming performance that left everyone in attendance with tears of joy. This viral video reminds us that love knows no age, and music has the power to bring us all together.
Don't forget to share this heartwarming moment and inspire others to celebrate the special bonds that span generations.
You can find the source of this story's featured image here.
Want to be happier in just 5 minutes a day? Sign up for Morning Smile and join over 455,000+ people who start each day with good news.