Paco, an Amazon yellow-crowned parrot, began his life in captivity. For seven long years, he was stuck in a small cage without much interaction. That all changed in 2020 when this wonderful bird was adopted by his forever family. He now has his own Instagram page and human siblings. Paco is living the good life, now, but it took a lot of patience and work to get to this point.
In an adoption story narrated by his human mom, we learn the struggles that Paco went through. It is an uplifting story about all the changes that he went through in adapting to life with his new family. In a YouTube video and in the Instagram post, Paco's new mom discusses the journey of this amazing bird.
Amazon parrots can live an astonishing 50 to 75 years. Due to that, when you adopt a parrot, you need to prepare to care for the bird for its entire lifespan. Paco spent the first seven years of his life in a tiny cage. Before adopting an Amazon parrot, his new family had done a lot of research about parrots and their needs. They knew it would be a long journey to help Paco understand that his life would be different now.
Paco was fearful in his new environment, overweight, and his previous owner clipped his wings from an early age. Some of the fear responses he was exhibiting with his new family included attacking hands and skittishness. He was afraid of many common items such as fruits, running water, and toys, and was in constant defense mode. The first task for his new family was to develop trust. Although his new mom did a lot of work with him, the entire family helped.
After hours and hours of daily integration training, Paco is now a cage-free bird with a carefree lifestyle. His family loves him greatly and he participates in their daily routine. He enjoys bike rides, walks, and can fly, although he does prefer it when his family carries him. The family treats him like a tiny little green brother!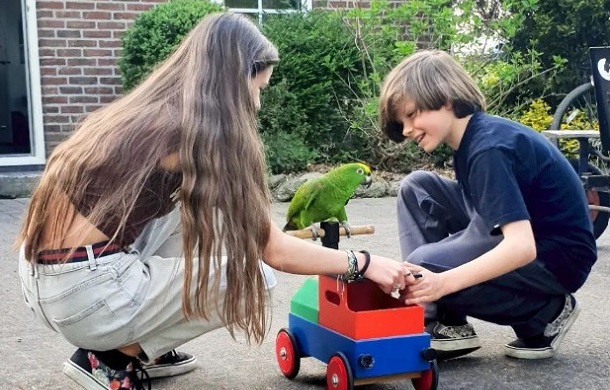 When it comes to providing a home for Paco in the future, his human siblings understand that he may outlive their parents. The kids will continue caring for their adopted little sibling so that he can grow to old age in the security of a familial environment.
Watch the wonderful story of Paco below!
You can find the source of this story's featured image here and here.
Want to be happier in just 5 minutes a day? Sign up for Morning Smile and join over 455,000+ people who start each day with good news.