After competing together in the 2023 World Athletics Championships, this Slovakian racewalking couple is moving on to bigger and better things. No, we don't mean the 2024 Paris Olympics (although they'll be participating in that, as well.) Dominik Černý and Hana Burzalová will be walking down the aisle sometime soon! They haven't made any wedding plans yet, but we're not sure what could possibly top their insanely romantic engagement.
Hana was just about to complete the women's 35km race in Budapest when she saw Dominik waiting for her at the finish line — on one knee! The look on her face as she realized what he was doing was priceless. When Hana accepted his proposal, Dominik adorably pumped his fist into the air before putting the ring on his now-fiancé's finger.
"We have been together for almost one Olympic cycle, almost four years, so I think it was the right time," said Dominik, according to the International Olympic Committee.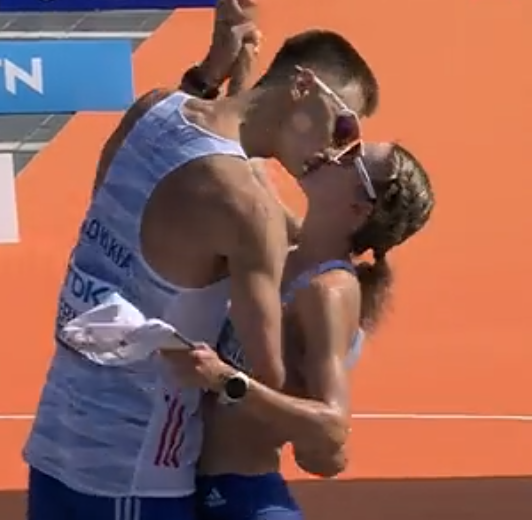 He continued, "There are no plans yet for the wedding, maybe we will decide only two days in advance. We like to do random things. At the Paris Olympics maybe we will start as the Cerny family — maybe in the new event, the race walk relay."
Before Dominik could pop the question, he had a race of his own to power through. The men's 35km began at the same time as the women's, which meant that he had to out-walk his partner if he wanted to be waiting for her at the finish line! This proved to be some pretty powerful motivation: not only did Dominik get there in time, but he also beat his personal speed record.
The live footage of the couple's unforgettable engagement is just too romantic for words! After a sweet kiss, Dominik scooped up his fiancé into his arms and carried her off. I think it's safe to say that this athlete has just raised the bar for proposals everywhere!
Watch the video below to see this couple's epic declaration of love.
You can find the source of this story's featured image here.
Want to be happier in just 5 minutes a day? Sign up for Morning Smile and join over 455,000+ people who start each day with good news.