Parrots and other talking birds have been known to say some hilarious things, but Nuggets the Indian mynah bird might just have them all beat! Ever the charmer, Nuggets knows just how to introduce herself to strangers. First, she tells them her name. Then, she adds a fun fact about herself.
"My name is Nuggets, and I'm a big fat chicken," she says.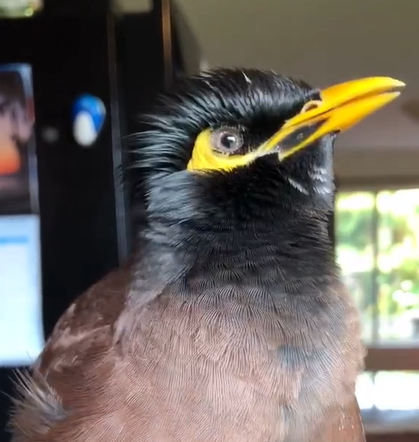 According to The Spruce, the Indian mynah is really, really good at repeating human words. In fact, the only bird that does it better is the African grey parrot. However, Nuggets has a second accomplishment under her belt: she's also a viral content creator! One clip of her saying her favorite phrase has reached over 3 million views.
Watch the video below to hear Nuggets the bird speak her truth!
You can find the source of this story's featured image here.
Want to be happier in just 5 minutes a day? Sign up for Morning Smile and join over 455,000+ people who start each day with good news.