In a heart-pounding experience, a woman named Sarah was in for the surprise of her life on a recent airplane journey. As the passengers settled into their seats, the pilot's voice crackled over the intercom, instructing Sarah to open a sealed envelope. Little did she know, her husband, Brent, had orchestrated a remarkable military homecoming surprise on the plane.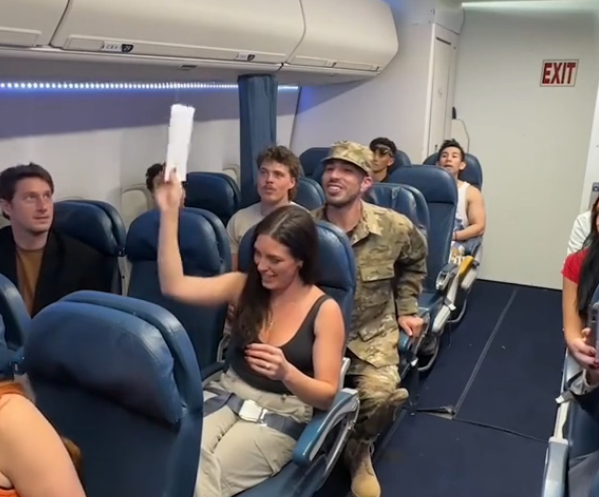 With the entire plane as witnesses, Sarah began to read the heartfelt letter from her beloved. The emotions ran high as the letter's final words instructed her to close her eyes and count to 10. The cabin filled with anticipation as she followed the command.
As Sarah reached the count of 10 and opened her eyes, sheer astonishment and joy flooded over her. Right beside her was her husband, Brent, in his army uniform. The tears welled up, and she couldn't help but scream in delight.
This beautiful moment reminds us that love transcends distances and can create unforgettable surprises even at 30,000 feet in the sky. Share this heartwarming military homecoming surprise on a plane and celebrate the power of love and reunion!
You can find the source of this story's featured image here.
Want to be happier in just 5 minutes a day? Sign up for Morning Smile and join over 455,000+ people who start each day with good news.