After observing a few big falls from a tree, the Morgan family realized there were two baby squirrels that needed a bit of extra support.
After the Morgans saw a dead squirrel nearby, they realized these sweethearts were likely orphans. Father Keith and his daughter Riley took the lead. They moved the babies into a rabbit cage to bring them back to health. They became official family members, receiving the names Chip and Dale.
Keith did a bit of research, and the family fed the babies Pedialyte to rehydrate them. While Chip unfortunately passed away despite the extra care, Dale held on tightly. He responded well to the food and care the Morgans provided and soon got strong enough to leave the cage.
But then the unexpected happened.
Dale the squirrel kept coming back!
"Little by little he would go up in a tree, climb up to play, and then come back down to stick around with us," Keith observed. "We said, 'OK. If he wants to stick around. We'll build him a house in the trees.' [Riley's] a big Whataburger fan and we decided to channel that into the home."
A novice woodworker, Keith took to the shop and came out with a mini Whataburger stop, just for Dale.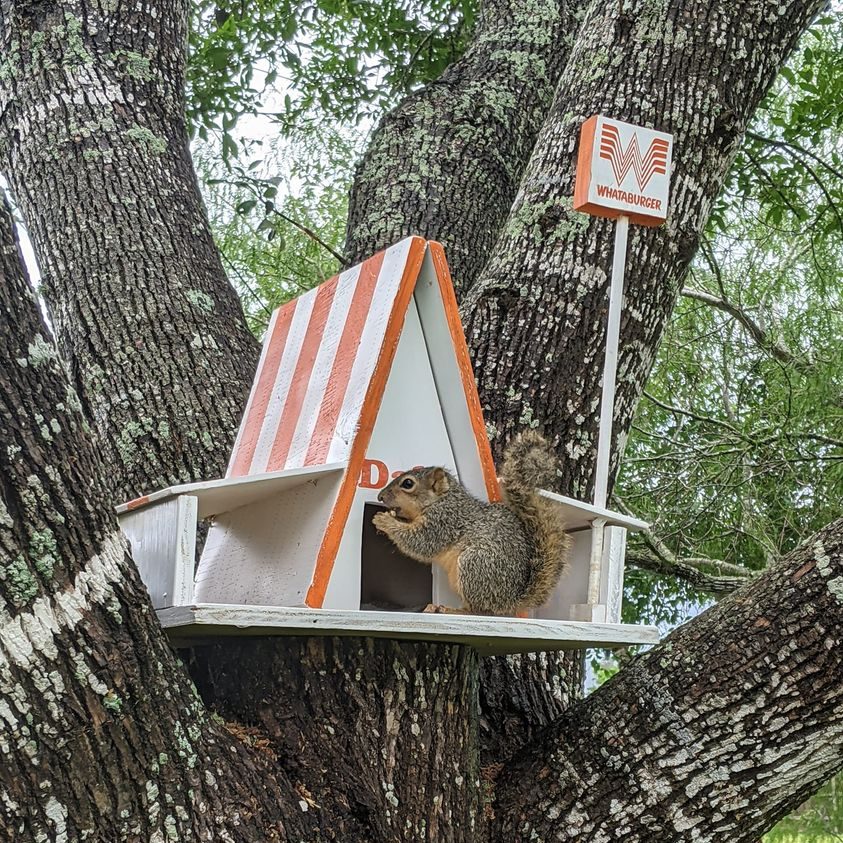 On July 10, Keith uploaded a picture of the squirrel home to a Whataburger Facebook group, and the content picked up steam. Over a thousand people shared the image, and the comment section is full of delight and awe.
While Dale hasn't stopped home to visit in a while, the Morgan family knows he's out there making the most of his life. Dale serves as a reminder that a little extra care can make a big difference!
The featured image for this article is from Facebook.
Want to be happier in just 5 minutes a day? Sign up for Morning Smile and join over 455,000+ people who start each day with good news.