Two new employees at Scarborough Beach State Park in Maine are saving lives and teaching kids about swimming safety. Plus, they're downright adorable! Newfoundlands Beacon and Buoy are the first canine lifeguards hired by a public beach in the United States. As second responders, their job is to accompany two-legged lifeguards into the water during emergencies.
According to NEWS CENTER Maine, both dogs were trained by the American Academy of Canine Water Rescue. Beacon began her career as a lifeguard last year, while 11-month-old Buoy is a more recent hire.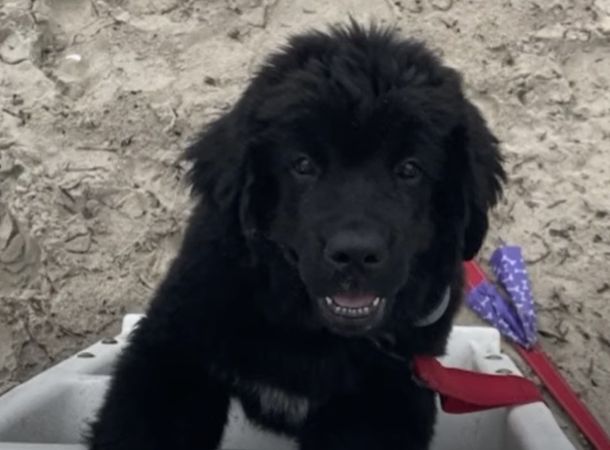 "She's in some ways ahead of where Beacon was at the same age because she has been able to train with Beacon," said Park Manager Greg Wilfert.
Greg told reporters that Newfoundlands are the perfect pooches to perform beach rescues. This breed has superior swimming abilities due to their large paws, as well as fluffy coats to keep them warm in cold water. Another perk of having these dogs on the lifeguard team? They get along great with all their coworkers!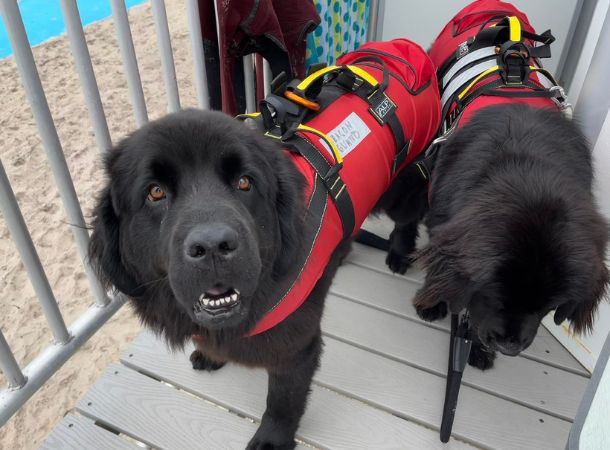 "It's getting more and more fun each year," said Ethan Schulz, one of 16 human employees working at Scarborough Beach State Park. He also said that more and more beachgoers are spending time at the lifeguard stand to meet Beacon and Buoy. In the process, they end up learning a little bit more about water safety.
"Everyone will come up, and it just starts a conversation," Schulz said. "At some point, it gets to the point where people will ask questions like, 'Hey, what are the places we should look out for?'"
Fellow lifeguard Carter Chen told WGME that children are especially interested in petting the four-legged members of the rescue team.
"We didn't have little kids come up to the stand before, so I think it's really helped public safety, as well," he said.
Watch the video below to see canine lifeguards Beacon and Buoy in action. Don't forget to share with a dog lover!
You can find the source of this story's featured image here.
Want to be happier in just 5 minutes a day? Sign up for Morning Smile and join over 455,000+ people who start each day with good news.