Music has such a special way of connecting us all. It's no wonder, then, that when a pianist named Van plays in public, he often gets requests. In fact, his social media pages are full of clips of his performances, many of which include moments where strangers got involved. Still, even Van was surprised when an adorable 8-year-old girl shyly approached him in a train station.
At first, all she did was request that he play "River Flows in You." To her surprise, he could! But that wasn't the only reason she approached him. Being a musician herself, she wanted to find out if she could accompany him with her violin.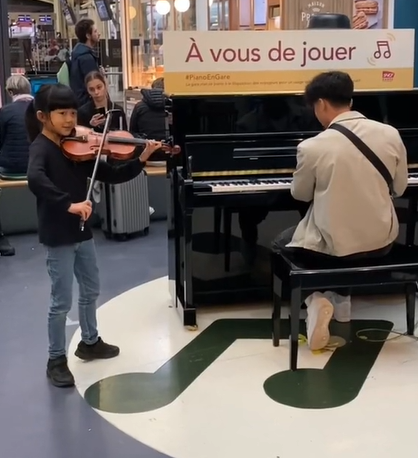 Van was thrilled to have her join him! Although the little girl was shy at first, as the music continued to build to the chorus, and folks gathered around, she grew more and more confident. By the end, she earned herself a round of applause!
Watch this talented little girl accompany a piano player for an impromptu performance of "River Flows in You" in the video below.
You can find the source of this story's featured image here!
Want to be happier in just 5 minutes a day? Sign up for Morning Smile and join over 455,000+ people who start each day with good news.