French people are notoriously passionate. When they express themselves, they do it with heart, exuding passion from the depths of their souls. This behavior pattern begins at a young age. In this clip, you will see a tiny tot, perhaps three or four years old, giving someone a piece of her mind. The original clip is in French, but we found a subtitled version to share (below).
As the short clip opens, we see our protagonist, the niece of the original poster, standing on a chair. The tiny tot is leaning over the table aggressively. She spoke very fast and angrily while pointing at, presumably, an adult we could not see. Our tiny hero is defending her grandma and demanding the unseen villain apologize.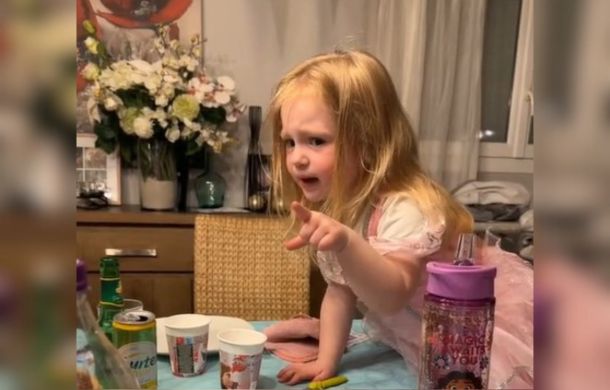 The little miss wasn't done yet, though. After the apology, she demands that the antagonist give her grandma a kiss! At the end of her tiny tirade, our tiny hero states that she is not happy. Then she sulks back down into her chair, muttering, "He's mean."
Watching this clip, you want to sit up straight and say, "Yes, ma'am!" Our little hero gives it her all, showing the depth of her passion while defending her grandma. When this tiny tot grows up, she will be a force capable of great things!
You can find the source of this story's featured image here.
Want to be happier in just 5 minutes a day? Sign up for Morning Smile and join over 455,000+ people who start each day with good news.