The first time on a plane can be an overwhelming experience for a kid, but JetBlue went above and beyond to make an awesome memory.
"This is my first time on a plane!" announced Colton the six-year-old as he stepped foot on the plane.
The flight attendant, Lorinda, immediately responded with a proposition.
"Do you want to drive?" she said, pointing to the cockpit. Colton's eyes lit up and he walked straight to the pilots.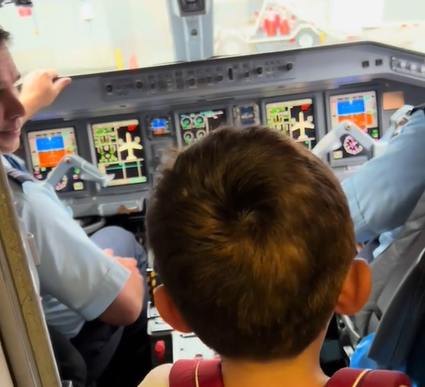 Colton shared that he was on a plane for the first time, heading to Tennessee to drop his brother off for college.
The pilots were so excited for him! They hopped out of their seats to let Colton take a picture near the controls. His grin was from ear-to-ear.
Once Colton returned to his seat, he was geeked for takeoff.
"Eat gum while an airplane is taking off," the six-year-old advised. Colton knows all the tricks!
Once the plane was in the air, an announcement came on regarding snack delivery.
"We have a special helper today!" Lorinda announced over the speaker. "His name is Colton, and it's his first flight ever, so he's going to help me with the snacks today."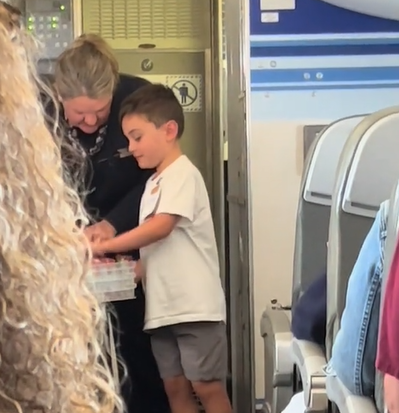 Colton couldn't believe it.
The snacks were delivered successfully and Colton landed back in his seat for the duration of the flight. Lorinda brought Colton a special baggie full of treats for his hard work.
Over a million people have watched this video of the JetBlue staff going the extra mile to give Colton a special experience.
"JetBlue rolled out the red carpet for Colton. It was his first plane ride and they went above and beyond to make his experience special," captioned Colton's mom, Deana on her trending TikTok video. "Thank you to the amazing crew, especially Lorinda for treating him so well!"
JetBlue's amazing gesture for Colton serves as a reminder that special moments can happen every day. Take a moment today to spread some extra joy!
Check out the full video of Colton's epic flight below.
The featured image for this post is from TikTok.
Want to be happier in just 5 minutes a day? Sign up for Morning Smile and join over 455,000+ people who start each day with good news.