A funny thing happened to this high school senior on the way to graduation… and boy was it a memorable one!
Raziah Stanley from Forest, Virginia ended her year with a bang as her car caught fire just before her graduation ceremony. According to ABC 13, firefighters from the Boonsboro Volunteer Fire and Rescue Company were dispatched on Saturday morning in response to a vehicle fire.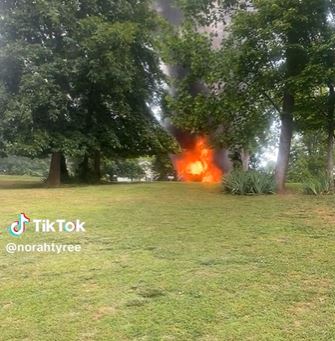 "My car made a little funny noise," she recalled. "It wasn't a loud noise, but it just kinda didn't feel right; so I just pulled over, put on my hazards, and thought that it may have overheated."
When Raziah's car began to emit smoke, she called her friend Norah Tyree to come pick her up. However, when the other teen arrived, the vehicle was on fire. Whoops!
"Within five seconds of her being there, it was from the hood of the car to the trunk of the car," Raziah described. "All in flames; it wouldn't stop."
Thankfully, firefighters also arrived and were able to put out the fire. Crew members later stated that, while the car was too damaged to be certain, they assumed an electrical short was the cause.
But despite the fact that Raziah's day was, by normal standards, going very badly, she and Norah knew just how to make the best of a bad situation. Norah whipped out her phone and made a hilarious TikTok that has since gone viral.
Watch the video below, and be sure to share with your friends who also know how to find the humor in everything.
You can find the source of this story's featured image here.
Want to be happier in just 5 minutes a day? Sign up for Morning Smile and join over 455,000+ people who start each day with good news.