Michael Wood was an attorney, but he named the invention that made him famous after a childhood game — Leap Frog. When he had difficulty teaching his son to read, Michael developed a solution that later became a product known as the LeapFrog Phonics Desk. The Phonics Desk became LeapFrog's first product and hit the market in 1995, before Christmas. They were initially sold at Toys-R-Us. The rest is a progression of products to assist children in learning to read, count, add and subtract, and much more. Innovative LeapFrog learning systems have progressed through several generations. But the first prototype is still in use! The inventor of LeapFrog himself is teaching his granddaughter using the original prototype.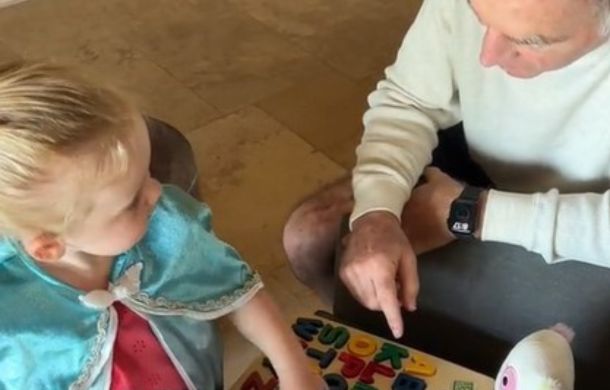 Michael recently brought out the prototype version of LeapFrog to work with his granddaughter. What a wholesome and endearing moment! Michael tells his granddaughter that all her little friends can watch. Michael arranged all the furry friends around the board and demonstrated how the system works.
His granddaughter presses the letter "C," and the computerized voice recites, "C." You might recognize those letters. They are from a set of refrigerator magnets. Although the technology has marched forward since 1994, it is terrific that this simple prototype is still working. That Michael brought the original LeapFrog out to work with his granddaughter is even more heartwarming. The memories that board must hold!
For many of you, we know that LeapFrog learning systems were a large part of your childhood. Many schools use the systems in classrooms to supplement teaching. My daughter had a LeapPad with several books and a handheld Leapster gaming system. By keeping children engaged through graphics and music, LeapFrog taught them when they didn't realize they were learning! LeapFrog products are still widely available in retail establishments. Thank you, Michael!
You can find the source of this story's featured image here.
Want to be happier in just 5 minutes a day? Sign up for Morning Smile and join over 455,000+ people who start each day with good news.