We often wonder how we're doing as parents. Kids don't come with a manual or instruction guide, so how do we judge the job we do raising them? This dad attempted an experiment with his daughter and found out. This young lady steals the show in this viral video "fake job interview," but she sells out her dad in typical kid fashion.
The video opens mundanely, showing a man in a suit and tie with his daughter. From the opening sentence, you are offered the impression that this man is interviewing for a new job. The "interviewers" have asked him to have his child present for an unknown reason. Dutifully sitting with his daughter, Abby, he is ready to make a favorable impression. However, the serenity doesn't last long.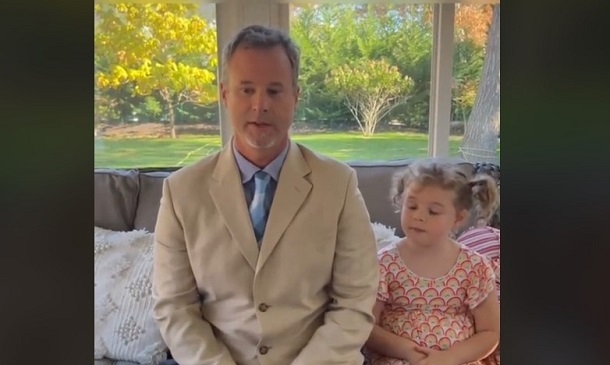 As the man begins his introduction, he offers tidbits about his lifestyle. Abby changes her expression as each "fact" is mentioned. Finally, she just can't take it any longer. Standing up, she hollers, "CUT!" From there, things just seem to go downhill for Dad.
The hapless dad continues the fake job interview, offering that he only drinks water and eats veggie wraps. Abby outs him as a pizza guy and tells him he can't lie to "them." She continues to call out the rest of his lies before finally walking offscreen.
When raising children, we can never be certain we're doing it right. For this man, I'd say he is raising a fine young lady with good morals. This fake job interview proved her strong convictions, and she isn't afraid to make noise about it. She doesn't believe in lying and isn't afraid to correct her dad when he does. Watching the interchange is uplifting and reassuring.
This dad can be proud of the job he is doing!
Watch the video on YouTube:
You can find the source of this article's featured image here.
Want to be happier in just 5 minutes a day? Sign up for Morning Smile and join over 455,000+ people who start each day with good news.