Although we might laugh at the method, these folks showed great ingenuity in rescuing a horse. We need to fill in some background information, so bear with us. Picture a stormy night. The scene shifts to a skittish horse named Ms. Lexie. When the storm hit, she wanted no part of it. She took off through the dark and stormy night. Her forward progress took her into a six-foot-deep pool, where she remained stuck until the following day.
The first calls about the horse started rolling in upon discovery of the horse on September 10, 2023. It took quite a while to assess the situation and determine the best way to help the horse out of the pool. A large animal specialist was on the scene to help with the assessment. The Wesley Chapel Fire Department was dispatched to the scene at 1:22 P.M. WCFD activated the Cabarrus County Large Animal Rescue Task Force. Midland Fire and Rescue and personnel from the Georgeville Fire Departments also assisted in the rescue effort. After developing four action plans, the WCFD decided on the best, most humane method, and went to work.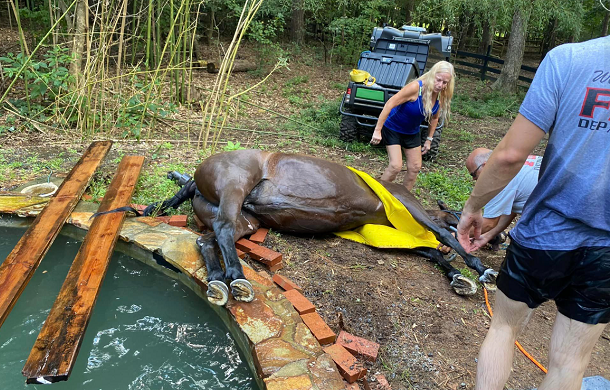 Because the weight of the horse was approximately 1,200 pounds, the firefighters couldn't just pick her up. She was also probably still skittish due to the storm and her entrapment. With the help of the large animal rescue team and a veterinarian, the rescue teams were able to slide ropes around the horse. Using the ropes and a makeshift ramp system, they were able to pull Ms. Lexie out of the water. Once out of the water, they attached lifting straps around her and a tow truck crane lifted her into an upright position.
After examinations by the specialists, Ms. Lexie went to her owner after 3:00 P.M. Sunday. Teamwork, creativity, and ingenuity played a role in providing a safe rescue for the horse. Although it took some effort, Ms. Lexie appears to be fine after her adventure, but perhaps a bit exhausted.
You can find the source of this story's featured image here.
Want to be happier in just 5 minutes a day? Sign up for Morning Smile and join over 455,000+ people who start each day with good news.