In a video that is still going viral, United Parcel Service (UPS) driver J.R. Minton offers sage marriage advice to couples. That advice? "I don't help my wife cook." Don't worry, it's not what you think!
J.R. starts with a speech that might rile a few people. But hang in to listen to the whole thing! He states "I don't help my wife cook" and follows that up with saying he doesn't "help" with cleaning, laundry, or taking care of the kids either.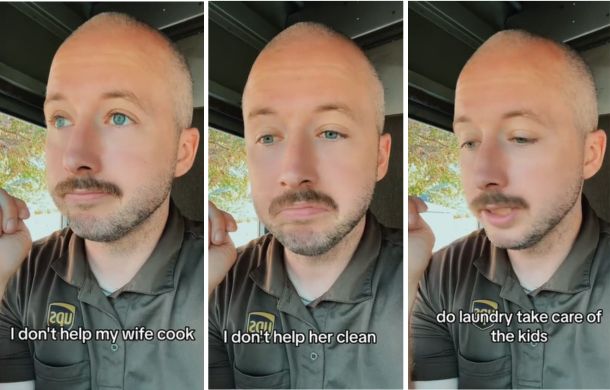 We know what you're thinking. We thought it too. But J.R. continues quickly, adding that he does what he is supposed to do as a father and a husband. You're still seething a little. We were too, but we kept listening, and the marriage advice got MUCH better.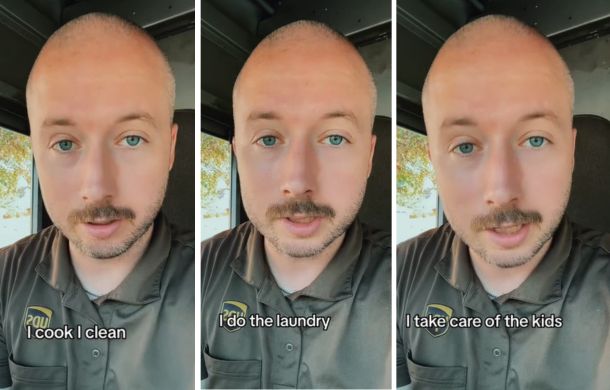 Wait a minute… first, he said he doesn't help, then he says he does all those things he doesn't help with. That part confused us a bit too, but we kept listening. What J.R. said next tied it all together.
At that point, we had a "Whoa!" moment, and it started to make sense to us. J.R. continued, urging people to change the way they speak, and the way they think. He finishes by telling us to grow up and be a man. While it is clear that J.R. is directing his speech to men, it is sound marriage advice for both partners.
J.R. does use some colorful language at the end of the original TikTok, making it NSFW or for viewing around younger eyes and ears. But the marriage advice he offers is very wise, indeed. This was what he had to say when interviewed on "Good Morning America."
You can find the source of this story's featured image here.
Want to be happier in just 5 minutes a day? Sign up for Morning Smile and join over 455,000+ people who start each day with good news.