Many people hear the word "seizure" and instantly assume epilepsy. Not all seizure disorders are related to epilepsy. One form, psychogenic nonepileptic seizure (PNES), greatly resembles the seizures common with epilepsy. The difference is mainly in the cause of the seizures. Epileptic seizures are caused by abnormal electrical activity within the brain. Specific or non-specific triggers in PNES might include loud noises, crowded spaces, distress, or body temperature fluctuations. When Lauren Spanner experiences seizures, strangers can have different reactions to the seizures.
Lauren Spanner suffers from PNES and uses her social media channels to help people understand this seizure disorder better. She has been experiencing seizures for about three years. Although she is aware of some of her triggers and can remove herself from situations to avoid a seizure, that isn't always the case. She often details strangers' reactions to seizures in her videos.
Part of Lauren's awareness program is a series of posts where she has rated the heartwarming reactions strangers havr had during her seizures. She uses a scale of 1 to 10 and describes what the people did to earn the rating. Some of the videos have groupings, such as "teenagers" or "families" helping. The 30-second video clips are educational and sometimes humorous.
1. One Guy Called Her A "Protein Shake" — How Silly Is That?
Being labeled a "protein shake" didn't bother Lauren, and she was grateful he could joke after such a harrowing experience. She described the things he did correctly, but still only rated him 8 out of 10.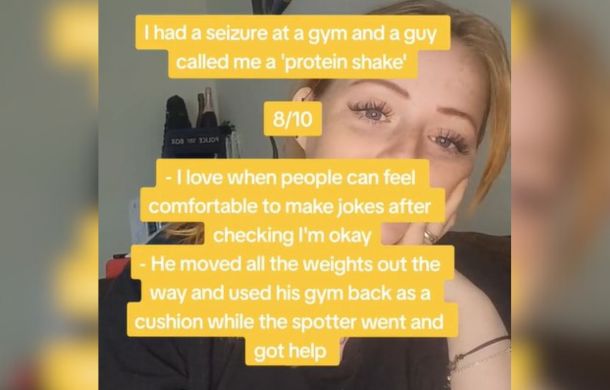 2. Using Lauren's Seizure As A Teachable Moment
A young dad showed his son how to put Lauren in the recovery position. He used the event to teach his son how to help a person having a seizure. The young boy allowed Lauren to hold his most precious possession while waiting for the ambulance. They were rated 10 out of 10 by Lauren.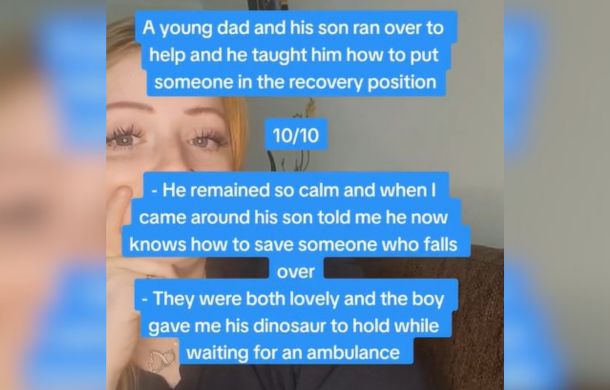 3. "I love to have a wiggle dance too"
Kids can be amazing. On seeing Lauren having a seizure, one innocent child happened by and dropped a few coins for her, thinking she was a street performer. Walking away, a friend of Lauren's heard the kid say, "I love to have a wiggle dance on the floor too!" For pure, unadulterated cuteness, the kid rated an 8 out of 10.
4. Teenagers Are Awesome With These Heartwarming Interactions
Who would expect teenage boys at a bowling alley to earn 10 out of 10? Apparently, there are some extremely caring teens in the real world. These kids stayed calm and called for help, earning them kudos for the heartwarming Interactions with strangers. One teen even helped Lauren by shielding her ears as she came around to block out the noise of the bowling alley!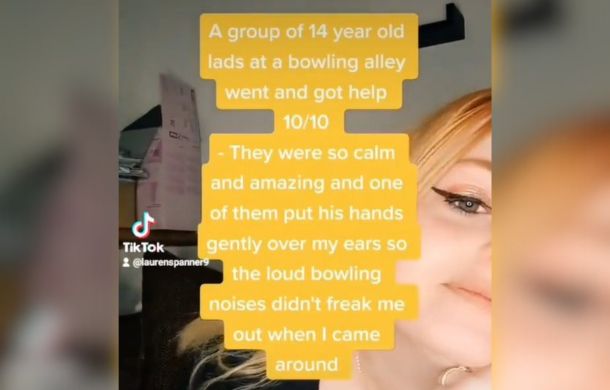 5. When The Whole Family Pitches In To Help
When a father enlisted his children with a seizure, the older son collected Lauren's belongings to keep them safe. The daughter was younger and more curious, asking if she had tipped over because her head was too big.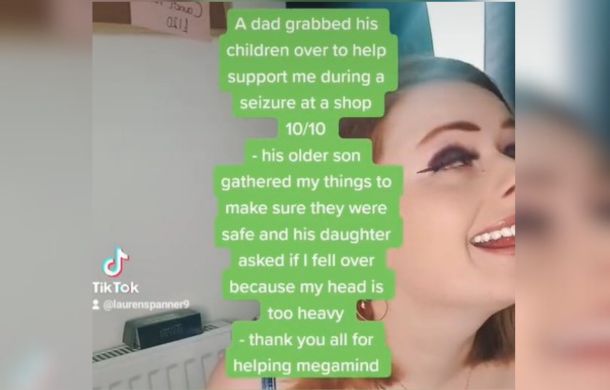 6. Sometimes A Heartwarming interaction With Strangers Is Hilarious!
Another teen, out with his grandparents, did something totally hilarious when he noticed Lauren had wet herself during the seizure.
Although Lauren's interactions are sprinkled with the occasional bad apple, it seems that the majority of people are decent folks. There are at least 23 of the rating videos on Lauren's channel. We can't cover them all here, but they are full of information on what to do and what to avoid when you happen upon someone having a seizure.
We encourage you to watch the series and learn more about seizure disorders so you know what to expect if you experience someone having a seizure in public. You'll laugh, you'll growl about some bad actors, and you might shed a tear of amazement at some of the heartwarming reactions to Lauren's seizures.
You can find the source of this story's featured image here and here.
Want to be happier in just 5 minutes a day? Sign up for Morning Smile and join over 455,000+ people who start each day with good news.