Pete, a 10-year-old "zorse" — a striking blend of a horse and a Grévy's zebra — found himself at a Texas exotic animal auction, facing an uncertain future. That was until he met Emma Davis, a compassionate Californian business owner who was struck by his unique personality. What started as a chance encounter transformed into a heartwarming story of rescue and freedom.
At the auction, Pete was either aggressive or avoided people — but not Emma. When she approached, he nestled his head into her chest. Emma knew she had to save him, and thus began a connection like no other.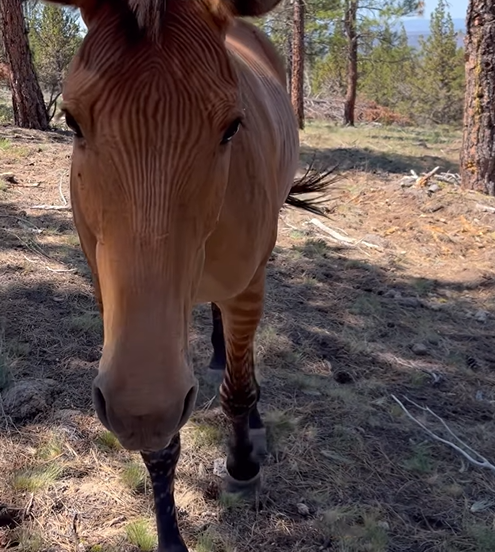 Exotic ranches in Texas have grown in popularity, hosting animals such as zebras and "zorses", often for hunting purposes with price tags reaching thousands of dollars. Emma, however, had other plans for Pete. She spent a year making Pete comfortable, realizing he wanted to be free. She found him a wild horse sanctuary, Skydog Ranch and Sanctuary, where he could roam freely with a herd. The incredible part of this tale? More than 7 months later, when Emma visited, Pete recognized her voice and came for an ear scratch.
The enchanting story of Pete's rescue and his special bond with Emma has reached far and wide. What brought tears to many eyes, however, was a touching video shared by Emma on Instagram, capturing the moment Pete recognized her.
Don't forget to share this incredible story of Pete and Emma with your friends and family, and let the video inspire you to believe in the powerful connections that exist in our world. It's a tale of love and freedom that we all need to see.
You can find the source of this story's featured image here.
Want to be happier in just 5 minutes a day? Sign up for Morning Smile and join over 455,000+ people who start each day with good news.