An adorable video shows a rescued bear waking up from a nap with messy hair and a disoriented expression. We've all been there, right?
In the viral clip, posted to Instagram by the White Rock Bear Shelter in Ukraine, Chada the bear emerges from a makeshift cave in her enclosure with a serious case of bedhead! She looks around blinking sleepily, as though she's confused after her deep slumber.
"This is me starting the working week," reads the caption. "Good morning. We're all like Chada on Monday."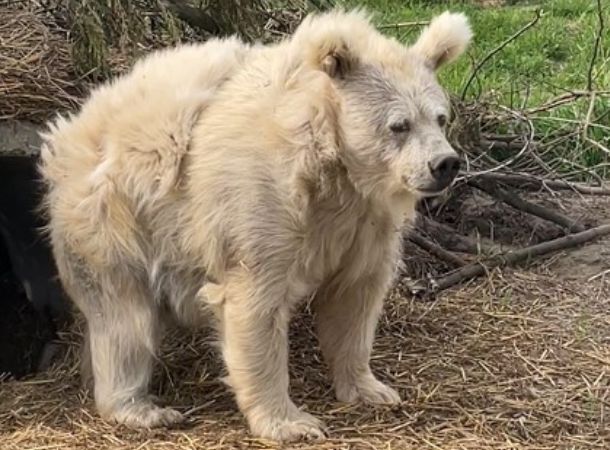 My Modern Met reports that Chada's fur appears messy in the video because she's in the process of shedding her winter coat. However, many commenters mistakenly thought that the clip portrayed the animal waking up from her annual hibernation.
According to the White Rock Shelter's website, Chada belongs to the Tien Shan species, which is endangered. Sadly, she spent the first part of her life in the circus before being relegated to a cramped cage in Kyiv. These rough experiences cost her a great deal of her vision and most of her teeth. Thankfully, she was eventually rescued by animal activists and now leads a much better life! White Rock calls her "the star of our bear family" because of her remarkable spirit.
The Ukranian animal shelter frequently features photos and videos of their rescues on social media, including the adorable, fluffy Chada. These posts help to promote their adoption program, which allows generous donors to "adopt" a four-legged friend for a week. The organization also offers guided tours to visitors!
Share this story with a friend who could use a laugh, and check out the video of sleepy Chada below! If you're interested in helping the White Rock Bear Shelter provide for Chada and other rescued critters, you can check out their donation page.
You can find the source for this story's featured image here!
Want to be happier in just 5 minutes a day? Sign up for Morning Smile and join over 455,000+ people who start each day with good news.