Golf, in many ways, is a pretty mild sport. There's no contact, and golfers generally can focus on the job they have to do. But these Aussie golfers met a new match today: a swarm of angry birds! We just have to say it… it seems incredibly "Australia" for golfers to face swarms of angry birds!
At Tassie Golf Course in Tasmania, these golfers expected an easy day on the course. But they got quite a lot more than they bargained for!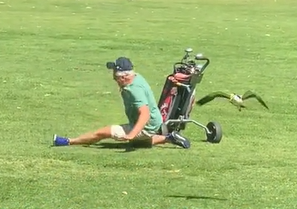 Equipped with golf clubs, these men sought to protect themselves from the dive-bombing plovers taking offense to their presence.
Plovers are wading birds with a lot of personality! These birds, in particular, were clearly on a mission to cause chaos to these Australian golfers.
It's important to note that the men didn't hurt these crazy birdies. They were trying to shield themselves from the terror, and the comment section totally gets it!
"People hating on magpies. Plovers are the real danger," said one viewer, who knew what the golfers were up against!
"Somebody help granddaddy," commented another viewer, referencing the spill that the older gentleman took in the beginning of the video.
This hilarious clip demonstrates that sometimes, the unexpected occurs! You've got to make do and see if you can have a laugh while doing it! Check out the full video of what Australia has to offer golfers in the bird department:
This featured image is from TikTok.
Want to be happier in just 5 minutes a day? Sign up for Morning Smile and join over 455,000+ people who start each day with good news.