Award-winning journalist and author Lisa Ling hosts an original documentary series called "This is Life" on CNN. It's focused on her travels across the country in search of "ordinary people with extraordinary lives." She ends up exploring unusual and sometimes dangerous cultures and communities during her journeys.
Talk show host Steve Harvey found one episode, titled "Fatherless Towns," exceptionally compelling. It covered an incredibly touching experience: A father-daughter dance for current inmates. A man named Aziz was one of those participants.
But now an ex-convict, Aziz is able to share his story of struggle and his remarkable recovery. Because of this, Steve was able to invite him on his show.
With his wife and daughter sitting right next to him, Aziz spoke candidly with Harvey about what it's like now that he's out of prison. And wow, it is so inspiring.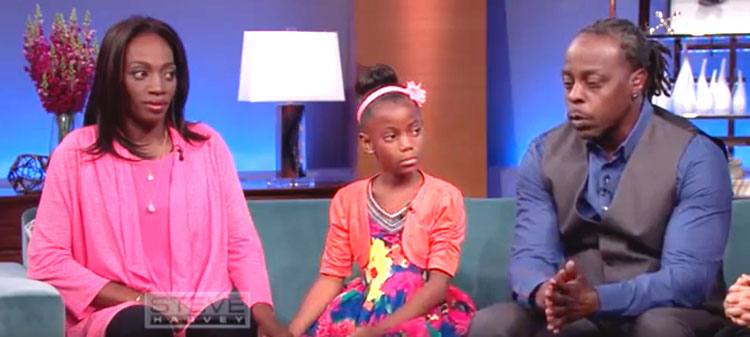 Just three days after his release, Aziz found a job – which is definitely not common for someone in his position, to put it lightly. And now, because of his income, the father and husband can provide cable for his family, allowing them to stay indoors.
But that seems counterintuitive, right? Wouldn't you want your family to be free to play and enjoy the outside world? It's because of the true level of danger in their community that it's not ideal to even go outside for Aziz's family.
Hearing this sad truth brought tears to the entire studio. In fact, his little girl says that she loves having dad home so that they can watch Spongebob together – not kicking the soccer ball or playing frisbee.
Because he was so touched by Aziz and his family's story, Steve offered up a gift towards the end of the show that caused Aziz to totally break down. The sweetest part is when his daughter began wiping away his tears.
Watch and share this beautiful story of redemption and kindness!
Want to be happier in just 5 minutes a day? Sign up for Morning Smile and join over 455,000+ people who start each day with good news.