Traditionally, a metal band isn't known for their wholesome-ness. They're known for producing loud, head-banging music that makes its audience's ears ring. That's why watching the group "Disturbed" can be an eye-opening experience. The band seems to be working diligently to change the image of metal bands. As they do so, they are facilitating a shift for the genre to a more family-centric model.
This metal band is eager to embrace the title "family band," as evidenced by a recent performance in West Palm Beach, Florida. The lead singer, David Draiman, stopped the show for a really sweet reason. Throughout the show, a young girl in the audience was singing along with every song. This may not seem like much, but it impressed David enough that he wanted to recognize the young lady.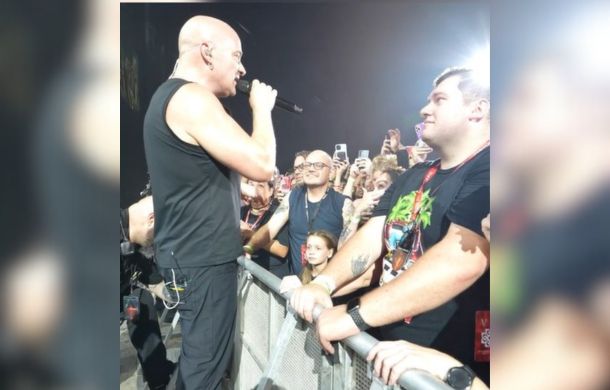 The attention scared her a bit and caused some gentle tears, and David immediately shifted into a "comforting dad" role. Asking if she's OK, he finds out her name (Sophia) and has the audience say hello to her. She blushes a bit with the attention and is nervous, but okay. Addressing Sophia's parents, he finds out their names (Rita and Arthur) and the audience salutes them with a rousing hello. Then he settles in to explain why he stopped the show.
David begins by stating that he loves that "Disturbed" concerts have become a family affair. He tells the audience, "This little girl has been singing her heart out the entire show." Continuing, he added that she knows many of their songs. He points to his son up on the stage while he tells the audience how much he loves having families at his concerts.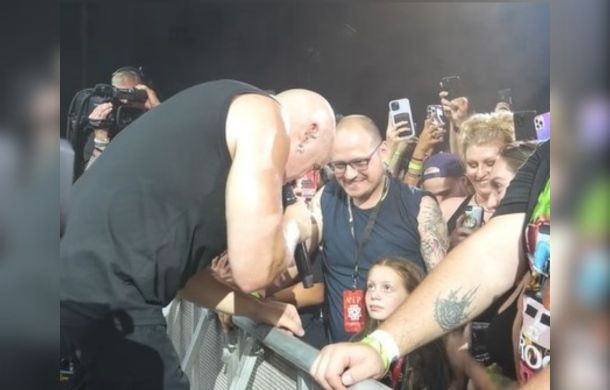 David proceeds to give an inspiring speech about how we are one, in a hard world, and that music cements that tie. Ending with a heartfelt message for little Sophia, David offers her a fistbump before returning to finish the concert. This is a once-in-a-lifetime moment that we hope you'll enjoy as much as we did.
Watch the video below:
You can find the source of this story's featured image here.
Want to be happier in just 5 minutes a day? Sign up for Morning Smile and join over 455,000+ people who start each day with good news.