Peanut the Chicken has lived a wild life. In 2002, Marsi Darwin discovered an egg that hadn't hatched on time. She walked it down to the pond to dispose of it when she heard a little chirp.
"I figured, well, it's going to die anyway, so I just went ahead and started peeling it out of the egg," Marsi said.
What she revealed was a living, breathing baby chicken. She was wet and small and completely unassuming. Marsi tried to introduce the chick to her mother, but she didn't want anything to do with him. So Marsi stepped up to the plate. She took Peanut into the house to begin raising her.
When Peanut was finally exposed to the coop, the other chickens pecked at her. Peanut wasn't comfortable being around the other chickens. She wasn't like them.
Marsi noticed this and realized that Peanut remembered her name. She even came when called!
"I had the old cage on the screened-in porch where she used to live," Marsi said. "She jumped up on it like 'this is my home.' Well, the next night there was this little parade of chickens behind Peanut. She led her friends to the porch."
Peanut was the leader of a rag-tag group of birds who were also on the outs of the chicken coop. She'd endured a lot in her few years of life: a rough birth, rejection by her mother, and bullying by the coop. But she stayed strong and forged her own way.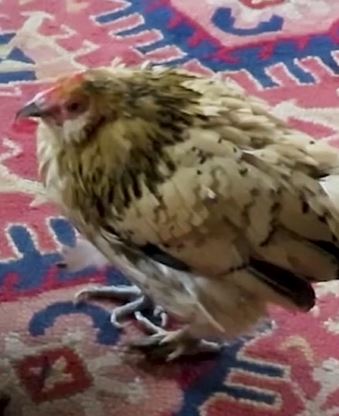 Recently, Marsi's family and friends pointed out that Peanut had been around a long time. While Marsi wasn't one to draw attention to herself, a friend encouraged her to submit Peanut's story and age to the Guinness World Record Book.
Then, it didn't take long to hear back. After sorting out verification (which was a bit difficult given the fact that Peanut had never been to the vet), Peanut won the award for the Oldest Chicken in the World.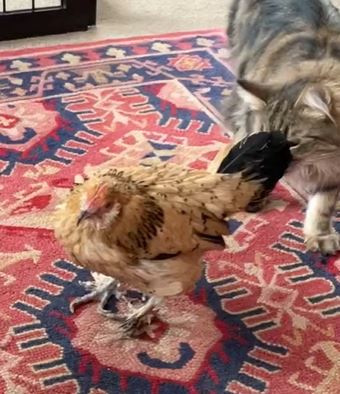 Marsi has used Peanut's newfound fame to share a valuable message. She wrote a children's book, "My Girl Peanut and Me," to tell the story of Peanut's long, resilient life.
"Be like Peanut," Marsi exclaims in the book. "Call for help!"
The book can be ordered on DarwinsEden.com, the official site of Marsi's Michigan farm.
It's not always easy to be an outsider, but Peanut's story proves that every life is worth chirping for. She's now officially rounded the corner on her 21st year!
Check out the footage of Peanut strutting her stuff below!
The featured image for this post is from TikTok.
Want to be happier in just 5 minutes a day? Sign up for Morning Smile and join over 455,000+ people who start each day with good news.