Although many dogs play fetch with a ball or frisbee, they can't slide to the plate and hit the ball like a pro. Pepper can! Pepper is an Australian cattle dog who spends her days hanging out in a garage with owner Daniel Martin. The 7-year-old pup has been training for three years and rarely misses a pitch.
The Marblehead, Massachusetts, garage is a perfect playing field for the duo. They use a whiffle ball, and Pepper swings a plastic bat. Daniel alternates between overhand pitches and using a hockey stick to lob balls to his companion. In an interview with Yahoo, Daniel states: "Her batting ratio is so good that it clearly isn't a fluke." He also adds that Pepper is very talented. But hitting baseballs isn't Pepper's only talent.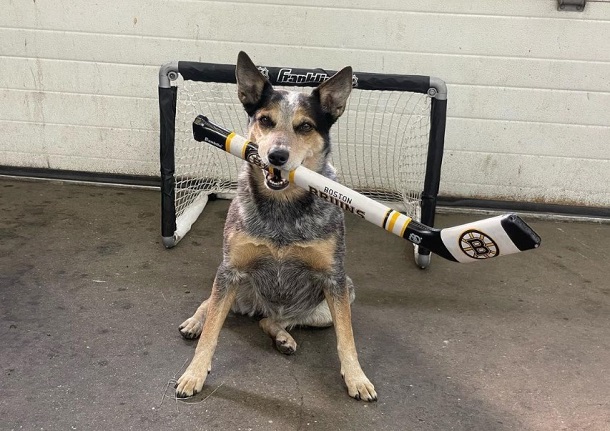 Daniel is a very active dog-dad, playing all the sports with Pepper. Visiting their Instagram page, you can see Pepper posing with a hockey uniform, stick, and small net (shown above). The page is full of activity, including Pepper going for a great tip-in basketball shot (shown below).
There are images and videos of Pepper catching frisbees, cruising in a motorcycle sidecar, and bounding through a snow-covered field. The Academic Hound describes Australian cattle dogs as an active breed, and Pepper lives up to that description easily. Daniel includes Pepper in almost all his daily activities, from working in the garage to spending a day on the beach surfing. Yes, Pepper can also be seen enjoying the waves on a surfboard!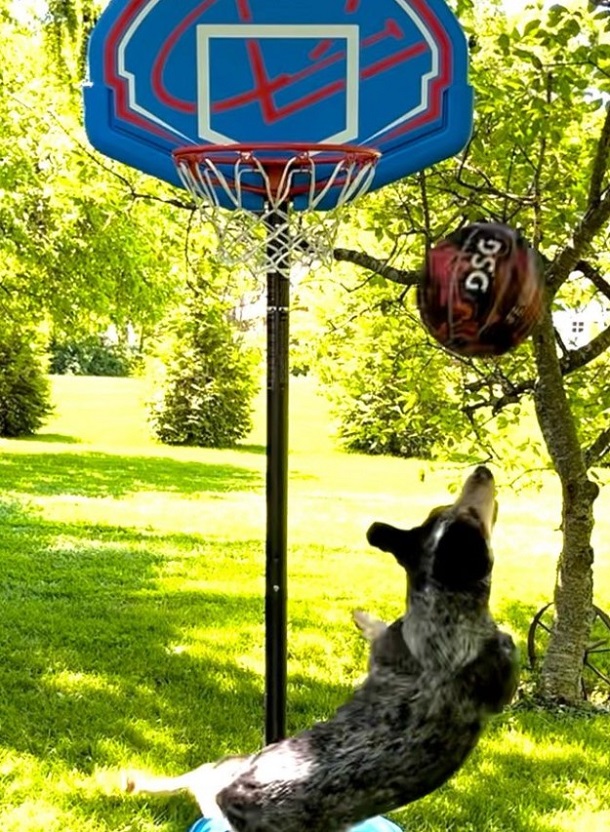 Pepper is a pretty famous puppers, too. Earlier this year, she appeared on The Tonight Show with Jimmy Fallon, winning viewers' hearts with a perfect onstage hit. Peppers may have a long career ahead of her, as Australian cattle dogs live an average of 14 to 16 years.
Watch the video of her hitting a home run here:
You can find the source of this story's featured image here.
Want to be happier in just 5 minutes a day? Sign up for Morning Smile and join over 455,000+ people who start each day with good news.