The kookaburra is a member of the kingfisher family. They are native to Australia, inhabiting forests and woodlands. There are four species: the laughing kookaburra, the blue-winged kookaburra, the rufous-bellied kookaburra, and the spangled kookaburra.
There is, however, no musical kookaburra — which could explain why this laughing kookaburra seems confused about how wind chimes work.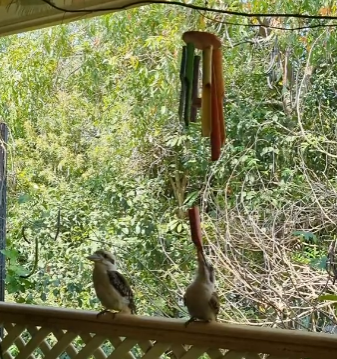 Kookaburras are curious birds. So when this one found a wind chime hanging from someone's porch, they seemed intent on figuring out how this instrument makes noise. While the bird's companion couldn't look less interested, our feathered friend went ham. The kookaburra seemed positively fascinated by the way the bamboo chimes clunked into each other with a bit of head-shaking! Play, kookaburra, play!
As the person who shared the video pointed out, "They say, 'you always learn something every day."
Watch the silly bird have fun learning how this strange new instrument works in the video below, and share to spread smiles!
You can find the source of this story's featured image here.
Want to be happier in just 5 minutes a day? Sign up for Morning Smile and join over 455,000+ people who start each day with good news.