If there's one defining characteristic among nurses, it's their unrelenting compassion for those in their care.
When Cami Loritz of Denmark, Wisconsin, decided to become a nurse, she only knew that she wanted to use her intelligence and skills to care for the sick and needy people of the world. She likely had no idea that she'd eventually wind up directly saving the life of one of her patients through a selfless act that's completely outside her normal job description.
As a nurse in the intensive care unit of Froedtert Hospital in Milwaukee, Cami cares for the most critically ill patients in the hospital. Like most nurses, she's most like seen and done just about everything while on the job, but when a little boy was brought in with liver failure in the spring of 2019 she felt her heart break open with empathy.
Brayden Auten had been a totally healthy little boy when one day his mother, Ruth Auten, received a call from the school nurse. Brayden wasn't feeling well at all, so his family brought him to the hospital and soon learned that an aggressive virus was attacking his liver.
Things quickly began to spiral out of control for Brayden, and days after he was admitted his family learned that he would need a liver transplant to survive.
"It was the Sunday after we got there, they finally looked at us, they're like, 'We're bypassing everything. He's going on the list tonight,'"said Brayden's father James. Ruth added, "Started talking liver transplant, and we just bawled our eyes out. We didn't think it was going to get that far.â€
The family reached out to their Facebook community for help, sharing the startling update and asking for anyone who could to get tested to see if they were a match for Brayden.
"Well this is the last post I wanted to make but Brayden's liver is failing," James wrote on Facebook. "We need your prayers and miracle for healing and to find him a liver soon. I appreciate everyone's love and support through this."
As Cami took care of Brayden in the hospital she watched the desperate family trying to find their son a transplant. After weeks with no success, the child's health was declining rapidly. Something had to be done, and Cami wasn't about to sit around and wait for the miracle. She decided to see if instead, she could become the miracle.
Cami went for testing and discovered that she was a match for Brayden! She quickly began making preparations to give Brayden a portion of her liver. For Brayden and his family, it's as if the heavens opened up and offered them all a second chance at life.
Once things were official, James shared the happy news on Facebook once again.
So today we had the wonderful opportunity to meet Braydens miracle, the angel that gave you life. She has given up time and went through pain to make sure that my son has a chance to walk by my side again and be able to live and thrive like a regular 7-year-old boy. So thank you Cami Loritz I will never be able to repay the gift that you have given my son and all of us!
Cami and Brayden had their surgeries in May. The surgery went off without a hitch for both of them!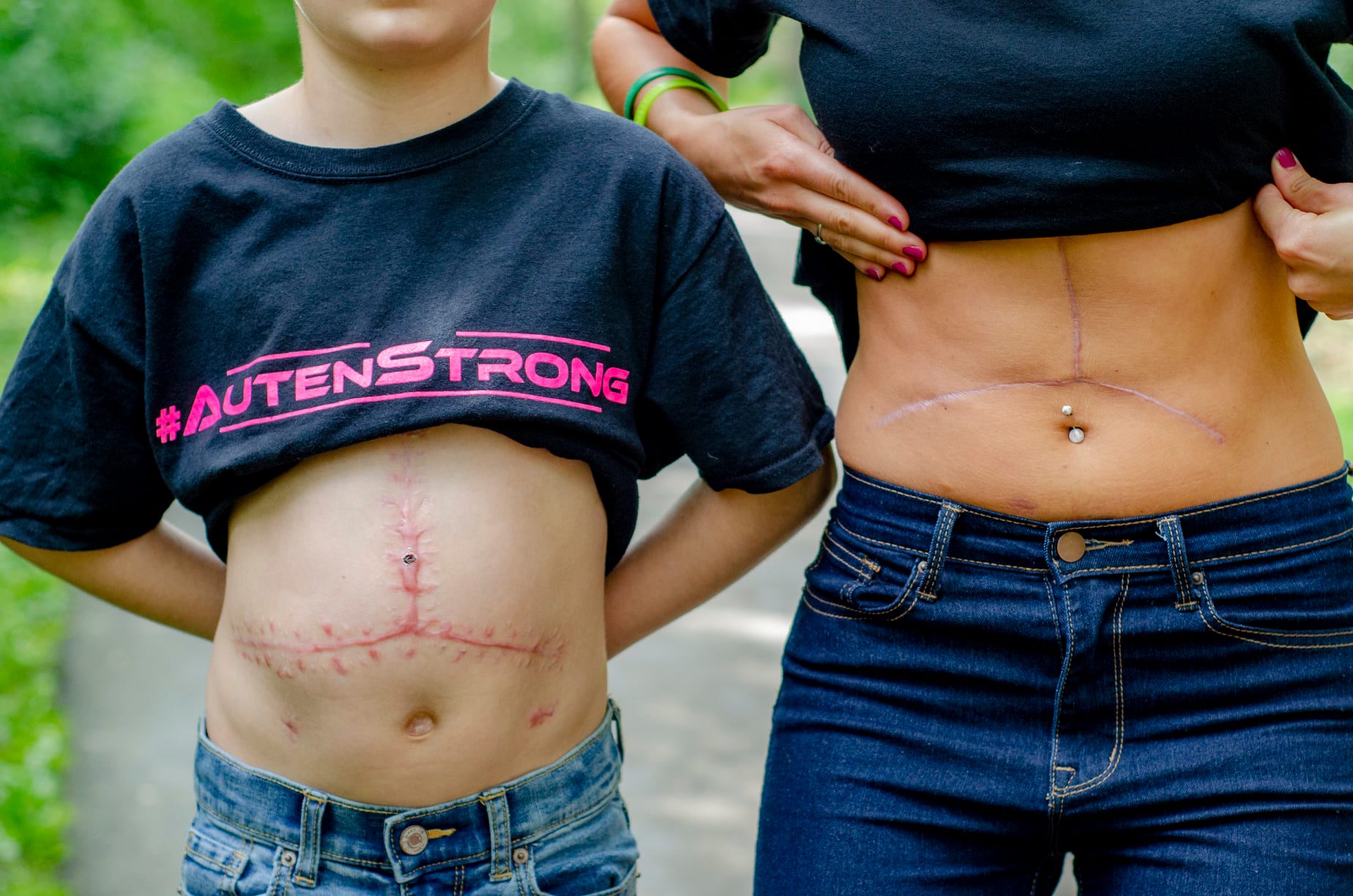 "What she did was completely selfless and she saved his life, plain and simple,"said James.
A few weeks after she gave him the incredible gift of life, Cami and Brayden got together to take some photos to commemorate their unbreakable bond. Cami and the Autens are now joining forces in more ways than one — they're also committed to encouraging others to look into living organ donation.
"This post comes from such a FULL heart," Cami wrote on Facebook. "I cannot say thank you enough for all the kind words, genuine thoughts and intentional prayers Brayden and I have received over the last few months. Know that they have been whole heartedly appreciated and were our go to 'pick me ups' during the rough days of recovery.â€
The family has a GoFundMe set up to help with some of Brayden's medical costs.  "We can't thank her enough. She's a true miracle. We consider her one of us, one of our family,"said Ruth.
Share this story to spread their message even further.
---
Share your story & inspire the world.
If you have an uplifting story we would love to hear about it! Share it with us here.
Want to be happier in just 5 minutes a day? Sign up for Morning Smile and join over 455,000+ people who start each day with good news.