When a bride walks down the aisle, it's common for her to be accompanied by someone in her life who helped her get to where she is today. Oftentimes, this person is her dad. But for folks like Ivy Jurgensen, there are others who fit the role much better. In Ivy's case, the decision to choose someone else made sense because of traumatic experiences she went through growing up.
When Ivy was young, her father was abusive. Although he is now in prison, she still went through years of abuse before getting the help she needed. Throughout these years, Ivy was able to find support through various other men in her life, including her high school resource officer.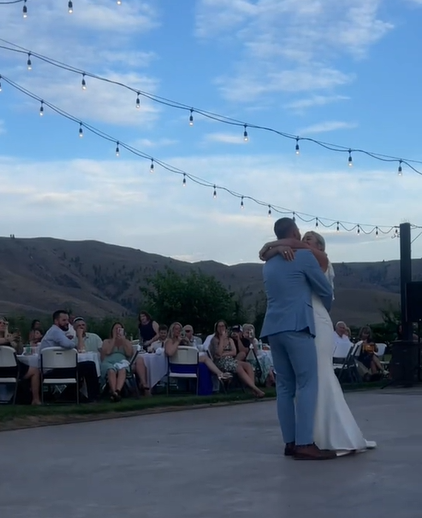 "I started to trust my school resource officer and I realized that he had a big heart and he loved his job and that he really he did care about his students in his school and his community he served," Ivy said. "That fostered friendship with my school resource officer was vital in me in starting to escape and and find justice."
That's why, when it came time for her to decide who would walk her down the aisle, she couldn't choose just one person. Instead, she chose 15 men who she says were "true examples of fathers who deserved to be called 'dad.'"
This loving group includes her close family friends and coaches from youth sports as well as her brother-in-law, uncle, and biological brother.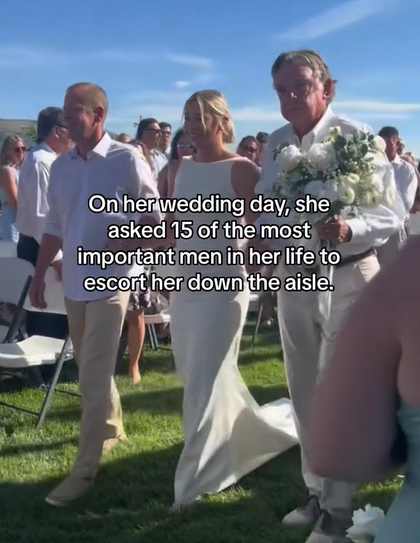 "They've played huge roles in my life, in protecting and providing for me when I didn't ask them to," Ivy told "Good Morning America." "So for me to honor them and for everyone to see them and who they are to me was very special for me."
A video capturing the moment they walked her down the aisle has blown up on social media, giving Ivy the chance to share words of encouragement for those with similar experiences.
"I hope that what people take away from my story is strength," she said. "That they are able to gain courage to get and receive help that they deserve and to no longer be voiceless. You are not alone and deserve to be heard and get justice. Saving yourself could be saving other unknown victims."
Now a resource officer herself, Ivy hopes to help others like herself in any way she can, which includes writing a book about her experiences.
"Trauma does not define you and you can still overcome it and use your trauma to help other people escape and be free from their trauma so that they can move forward," she said. "My trauma does not define me. It shaped me."
Watch Ivy walk down the aisle with the 15 men who helped save her life in the video below.
You can find the source of this story's featured image here!
Want to be happier in just 5 minutes a day? Sign up for Morning Smile and join over 455,000+ people who start each day with good news.