The Gatlinburg-Pittman High School football team had an unexpected tryout, so unexpected that the coach had to capture it on camera! The East Tennessee high school's unexpected visitor? A black bear!
Seemingly eager to join in on the action, the bear sprinted across the field, leaving everyone in awe. Gatlinburg-Pittman High School is nestled in the picturesque mountain town of Gatlinburg, Tennessee. This town, renowned as a gateway to the Great Smoky Mountains National Park, is known for its breathtaking natural beauty. However, the local football team, the Highlanders, had an encounter that gave them a stark reminder of just how close to nature they are!
Head Football Coach Brad Waggoner was quick to capture the unexpected visitor on video. The footage shows the bear confidently galloping across the field, near the end zone, as if it was vying for a spot on the team. The coach couldn't help but share the video on social media, captioning it with a lighthearted remark, "Just another day in The Smoky Mountains."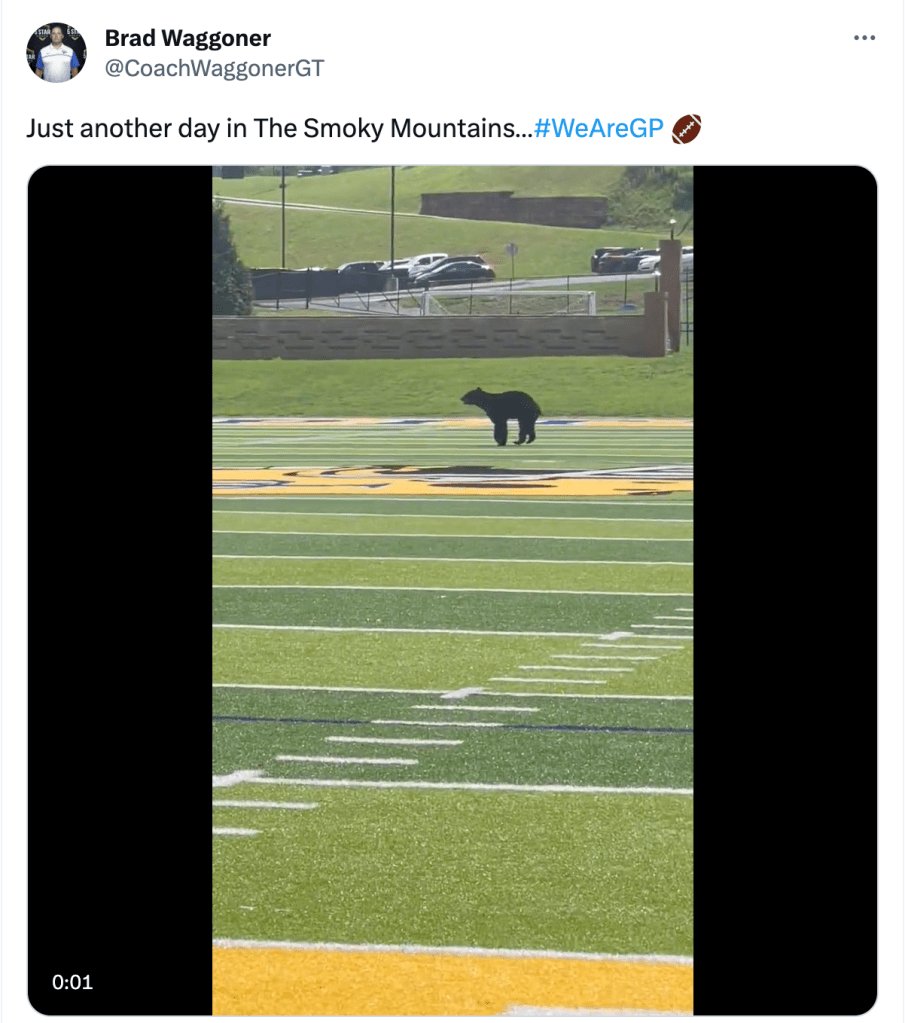 According to Coach Waggoner, the bear entered the field from the stands on the home side of the field and made its way across to the visitor stands. It seemed a bit disoriented, struggling to find an exit route. For approximately 10 minutes, the bear explored the field.
Despite the initial excitement, it was essential to ensure the safety of everyone involved. The team and staff kept a safe distance, allowing the bear to find its way back to its natural habitat. Eventually, the bear left the field, bidding farewell to its short-lived football adventure.
The Great Smoky Mountains National Park, spanning over 520,000 acres, is home to a diverse range of wildlife, including the American black bear. These bears are an iconic symbol of the region and are an integral part of the park's ecosystem.
Any time a town lies close to a bear's natural habitat, you're bound to have some crossover. Encounters with humans can occur, especially if food is involved. That's why you must always follow local wildlife safety guidelines to ensure the well-being of both humans and bears.
Encounters like the bear on the football field serve as a reminder of the beauty and diversity of the natural world. However, they also highlight the significance of wildlife conservation efforts. Preserving the habitats of these magnificent creatures is crucial for their survival and the overall health of our planet.
You can find the source of this story's featured image here.
Want to be happier in just 5 minutes a day? Sign up for Morning Smile and join over 455,000+ people who start each day with good news.