Twenty years is a long time. This is especially true when that time is spent away from friends and loved ones. For this dad, that's how long he was away in prison. When he was first sentenced, his daughter was only a baby. Now, she has a little one of her own.
Although he briefly saw his granddaughter once when she was really little, he had yet to see her again after he was released… until now. To celebrate this momentous occasion, someone captured it on camera. Now, it's touching the lives of countless folks, some of whom understand all too well what it's like for a family to be in this situation.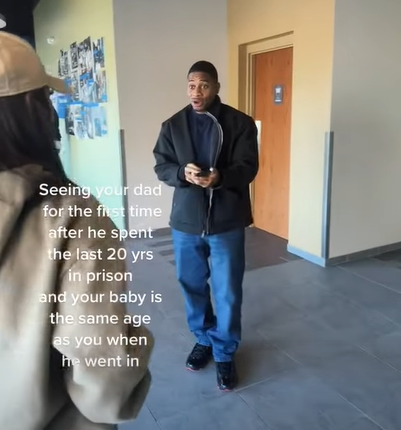 As soon as he spotted his family, Dad's face lit up, and his eyes grew wide. He hugged his daughter first, but then, he spotted her little one.
"That's my granddaughter?" Dad said. "Is that my baby? Come here! What are you doing? How are you doing?"
Watch this dad meet his granddaughter after 20 years in prison in the video below.
You can find the source of this story's featured image here!
Want to be happier in just 5 minutes a day? Sign up for Morning Smile and join over 455,000+ people who start each day with good news.