We typically meet strangers daily but don't always have wonderful conversations with them. While fetching a wayward homing pigeon that failed to "home," one pigeon trainer had a lovely interaction with a stranger. Homing pigeons aren't born with the innate ability to return to their coop. They require training, which sometimes means finding them when they get lost. When this woman lost her homing pigeon, it lead to a wholesome interaction with a stranger.
Such was the case when a trainer was walking her pigeon home. The homing pigeon was getting a little tongue-lashing (which is cute). The trainer recorded a video talking about this particular downside of training pigeons. She was concerned that she looked like a crazy person walking down the street holding the pigeon. As they passed a stranger in a residential area, she heard, "That pigeon's tame, isn't it?"
Cringing, the trainer quickly responded, explaining that the homing pigeon was ringed and in training to home. Giggling a bit, she nervously explained that it was a work in progress. The conversation continued, with the trainer explaining that sometimes the birds can find their way home and "Sometimes they get a little bit lost on the way, and I just have to go and find them and bring them home myself." At this stage, the trainer worries that the stranger will think she is crazy.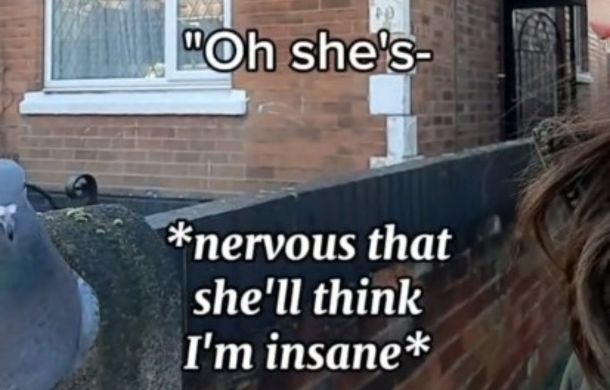 The trainer then introduced the pigeon as Dime. She uttered an unflattering sentiment about the poor lost bird before adding that she was lovely. The trainer was still nervous about that judgment of "crazy" she expected any second. This caused a bit more nervous explaining about homing pigeons. She continued, adding that she is training four of the birds at the moment.
The stranger responded positively and encouraged her, revealing a bit of advice that can serve every person in every endeavor. "Yeah, well, do it! … If it's something that you like doing."
The homing pigeon trainer was in a bit of shock but appreciated the positive interaction. There was a brief back-and-forth about the state of pigeons in general before the trainer continued her homeward journey. Watch the entire interaction below and let us know what you think.
You can find the source of this story's featured image here.
Want to be happier in just 5 minutes a day? Sign up for Morning Smile and join over 455,000+ people who start each day with good news.