Chilli is a rescued greyhound with a winning personality and a love of food. He lives in Wadawurrung Country, Australia, with his adoptive pet parents. On the website, Chilli is listed as a 5-year-old puppers. As a "goofy boy," they say he loves all the attention, all the sunshine, and, of course, dinners. Chilli has his own Instagram page and a TikTok channel (facilitated by his parents).
Greyhounds are very unique dogs. They are loving and very energetic. Over the years, they have been bred for racing. Fortunately, that inhumane practice is beginning to see some pushback, which means many of these dogs are experiencing the joys of rescue. The National Greyhound Adoption Program operates in the United States and abroad to help rehome these awesome animals with new families.
In the attached video, We see Chilli's mom napping in bed as Chilli is standing near the doorway. In an instant, he takes a bounding leap, appearing to be in slow motion as he floats through the air before landing on the bed with a thunk.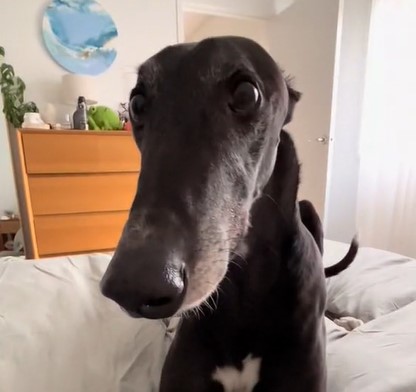 When mom laughs, Chilli has a burst of anxious energy and bounces up and down eagerly. He clearly wants something. His gentle woofing brings more laughs from his mom as she figures out his ulterior motive. Dinner isn't for another 30 minutes, but this temper tantrum clearly displays that Chilli wants dinner NOW!
If this is a temper tantrum, we want our toddlers to take note!
You can find the source of this story's featured image here.
Want to be happier in just 5 minutes a day? Sign up for Morning Smile and join over 455,000+ people who start each day with good news.