Aurora the bald eagle has had an impressively tough journey through life. Things took a bit of a nosedive for Aurora when she was struck by a truck while flying in Illinois. But that's not where her misfortune ended. Grievously injured, she then found herself waterlogged and stranded in the Missouri River.
Thankfully, this was where Aurora's poor luck finally took a turn for the better. Concerned boaters spotted the eagle and called Missouri state wildlife police. Wildlife police officers scooped the bird and transported her to a raptor rehabilitation center in Quincy, Illinois.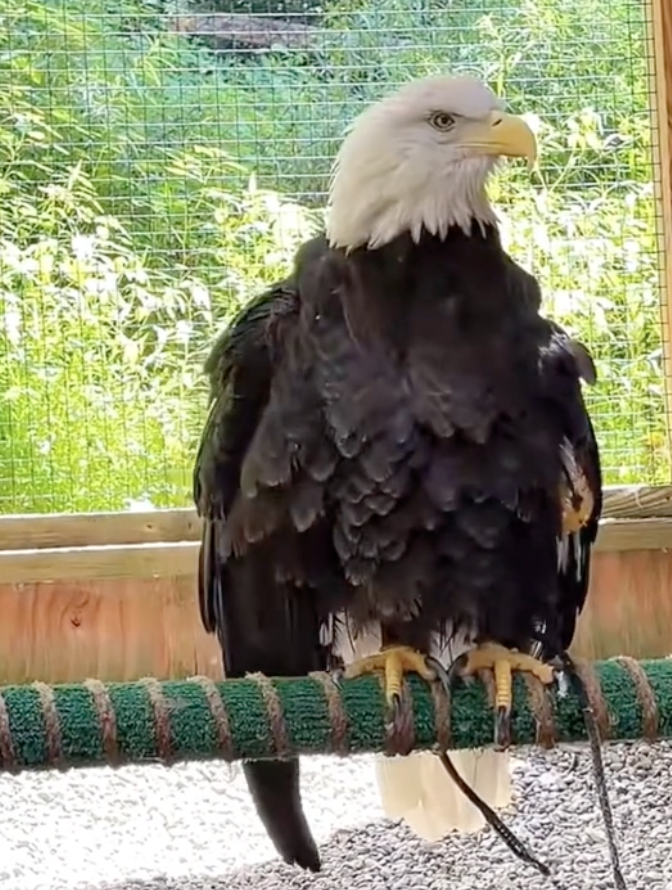 Despite a lengthy rehabilitation process, fractures in her radius, ulna, and metacarpal bones couldn't heal fully. These injuries left her unable to fully extend her left wing, which meant she couldn't sustain flight properly. Due to these injuries, wildlife officials deemed the bald eagle unreleasable, and the process of finding her a permanent home began.
That's where Christine's Critters comes in.
This Connecticut wildlife rehabilitation and education center heard of Aurora and obtained their federal eagle exhibition permit. This allowed them to legally provide a permanent home for the non-releasable bird.
Now, Aurora is living her best life at their education center. Through programs and their social media, Aurora serves as an ambassador for her species. She teaches the public about conservation and the problems facing wildlife. She also gets up to her own entertaining antics, as seen below:
Aurora the bald eagle is just one of many non-releasable education ambassadors living at Christine's Critters! You can help support their cause by following their social media, purchasing things from their Amazon wish list, or donating. Those who live close to their facility can also volunteer their time. You can find more information on their website!
You can find the source of this story's featured image here.
Want to be happier in just 5 minutes a day? Sign up for Morning Smile and join over 455,000+ people who start each day with good news.