A little girl with a terminal illness has been motivating others to perform acts of kindness. Diagnosed with infantile neuroaxonal dystrophy at the age of two, Charlotte Bauer is in hospice care as her nervous system deteriorates. Her mom's best friend, influencer Katie Wade-Neser, wanted to celebrate Charlotte's 5th birthday in a special way. Having previously raised money for the child's medical stroller, she reached out to her Instagram followers on Charlotte's behalf once more.
"Charlotte is the daughter of my childhood best friend and is a true angel. I'm emotional just writing this and thinking about her sweetness," Katie wrote. "Her 5th birthday is coming up and I want the Bauer family to feel loved and supported. But, more than anything, I want them to know that Charlotte has touched lives!"
Katie asked her followers to each write Charlotte a birthday card. Inside, she requested that they include an act of kindness that they had performed in Charlotte's honor. She added the hashtag #shinewithcharlotte to the post.
On May 23, the influencer had over 130 letters and packages to deliver to Charlotte's home. Her mom, Jenna Bauer, said that the family has been opening the cards together and reading them out loud to the 5-year-old. It's taking weeks to get through them all!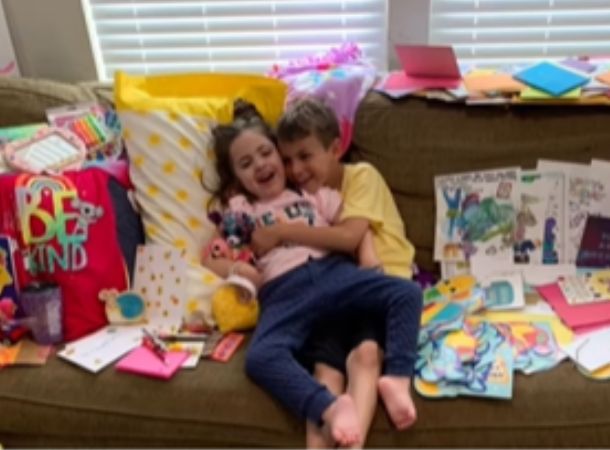 "We read every letter to her and she makes her happy sounds and smiles," she said, according to KSL. "You can tell she really really loves – and can feel – the outpouring of love. It really touches her and touches all of us."
Jenna especially appreciated the acts of service people had been performing for one another because of her daughter.
"It's been really special to see how much Charlotte has touched our own lives and changed our own hearts and then to see the influence she has had on so many others," she said. "And we have been changed by everyone who has reached out in love to us because of Charlotte. It's just been an amazing thing to witness."
You can watch Charlotte receive her birthday wishes here, and don't forget to share this heartwarming story!
Want to be happier in just 5 minutes a day? Sign up for Morning Smile and join over 455,000+ people who start each day with good news.