Cats Monty and Molly are feline internet sensations. They both have unique appearances which makes them look adorable and cuddly. Their facial structure results from a missing chromosome that caused them to be born without a nasal bridge. This makes their eyes appear wide-set, giving them a somewhat odd look. The condition is so rare that it doesn't even have a name!
1. Learning About Monty And Molly
Although many people assume that the condition is similar to Down Syndrome due to their appearance, Monty and Molly are normal cats. Their human mom, Fenjah Mogensen, takes the time to explain the condition on Instagram, Monty Happiness. The cats and their cat mom live in Denmark.
2. An Active Outdoor Cat Life For Monty And Molly!
Monty and Molly have cat harnesses, and the adventuresome family does a lot of outdoor exploring!
3. Cats Monty And Molly Each Have Instagram Pages
To stay on track with the busy lives of these two cats and their cat mom, you would need to follow them on three pages: Monty Happiness, Molly Happiness, and FENJAH (fenjahmogensen). While similar, each page has specific information about each cat.
4. Molly Is A Total Daddy's Girl
When a cat is comfortable with a human, it will use that human as a lounge chair, jungle gym, footstool, and scratching post. Molly's favorite human might be Sebastian. Look at that contented expression!
5. Monty and Molly Have A New Cat Brother!
Jamie has been adopted into Monty and Molly's little family. Jamie is another cat with a physical deformity. Many people call Jamie "The Picasso Cat" because he resembles one of the famous artist's abstract paintings! We think he's just adorable!
6. Monty Has Feline Diabetes
Monty has diabetes, but not to worry, as his mom has everything under control. She has a slide show with questions and answers about Monty's condition and general information on feline diabetes. Mom monitors his diabetes, gives him insulin as necessary, and works daily to keep him healthy.
7. Monty Is Deaf, So He Can Get Quite Loud!
Most fans don't realize that Monty has hearing loss. As a result, he doesn't realize how loud he can meow!
8. Molly Is A Doting Little Sister To Monty
After a vet visit, Molly followed Monty to ensure he was safe. What a fantastic little sister!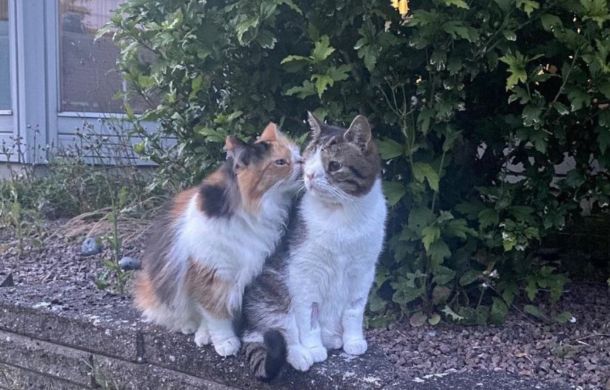 9. Talk About Adding A Little Bite To Your Meals…
Like all cats, Molly loves a good box. Imagine finding this little item under your Christmas tree!
10. Speaking Of Christmas…
Both Monty and Molly enjoy playing dress-up. Monty was a wizard for Halloween. Now that the seasons are swinging, Molly is modeling her little Santa outfit!
Monty and Molly have been working with their cat parents to settle in a permanent home. They had a house, then moved to an apartment. Monty hated the apartment, so they consolidated temporarily at Sebastian's apartment. However, no matter where this family calls "home," the feline residents are well-loved. Watch for more videos with their new cat brother, Jamie, too! If you love Monty and Molly, share these fantastic cats with your friends!
You can find the source of this story's featured image here and here.
Want to be happier in just 5 minutes a day? Sign up for Morning Smile and join over 455,000+ people who start each day with good news.